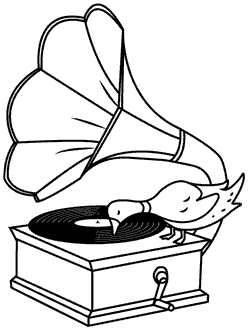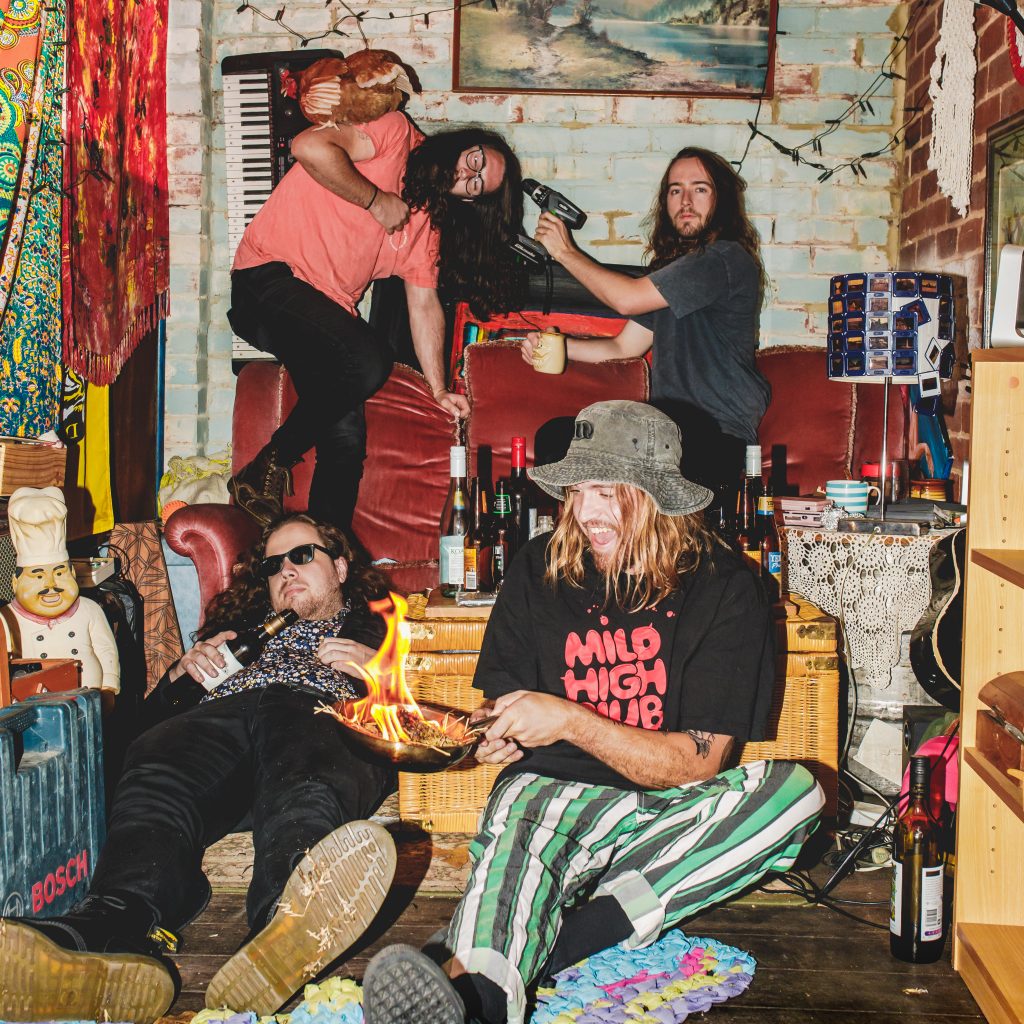 Take the trail out of Perth via Leederville and keep on driving, and you might just stumble across an old horse shed – one where weirdness roams free. Across the bridge from said shed, house parties rage until the early hours and beyond, while around the corner there's a sky-high pile of trash that acts as a makeshift home for the local rat population. It's here, amongst jam sessions that would last six-hours plus, that the wacky, sprawling sound of Psychedelic Porn Crumpets was born.
"It had a tin roof, so it was really nice when it rained," reveals the band's frontman and ringleader Jack McEwan – an idyllic image that's quickly scrawled over when he recounts a tale of said roof tearing off in the wind one night. "I used to have to wake up at 3am and spray myself with bug spray," he adds with a shrug. Composing songs on an old, out-of-tune piano, and hooking up projectors to their amps to beam warped imagery around the clapped-out barn, their wonky approach to music-making took root amongst the hay. "We got too many noise complaints," he admits, revealing that they've since decamped to a seaside home where they can make as much racket as they please. "It got into fine territory, but I don't think we ever paid one, so it's fine."
Originally formed as a uni course solo project for McEwan, who moved to the barn while "trying to live the bohemian life… until I ran out of internet", Psychedelic Porn Crumpets' night-long jam sessions and unconventional abodes are just the tip of their iceberg of happy accidents. He and fellow bandmate and guitarist Luke Parish met through a "local courier", while their upcoming record 'High Visceral' – a riotous stomp of psych-rock escapism – was inspired by the most unlikely of situations: their time as tradies, working on building sites. The two then teamed up with Danny Caddy & Luke Reynolds, completing the line-up.
Jack and pals needed something visceral. "We took the harder approach – big riffs," he says with an audible grin, "When you're on a site for six days a week, it's nice to get back in the evening and go 'RAAAAARGH' into a mic." That primal, intuitive style followed them through to their live shows, which would see the band writing a song one evening, and playing it in the local pubs the following night, inciting mosh-pits and wig-outs with barely a pause for breath.
That unforgettable name is yet another example of their go-it-alone approach – "I wanted something memorable like marmite – you either love it or you hate it," laughs Jack. Cracking a beer and preparing for another evening in his basement studio, he paraphrases an essay by fellow Perth resident Nick Allbrook of POND as key to his musical mindset: "Everyone calls Perth the most isolated city, and you kind of are… you're unaffected by great architecture, or 1000 years of history, so you want to create your own tale." One thing's for sure – the Psychedelic Porn Crumpets' tale is already one for the ages.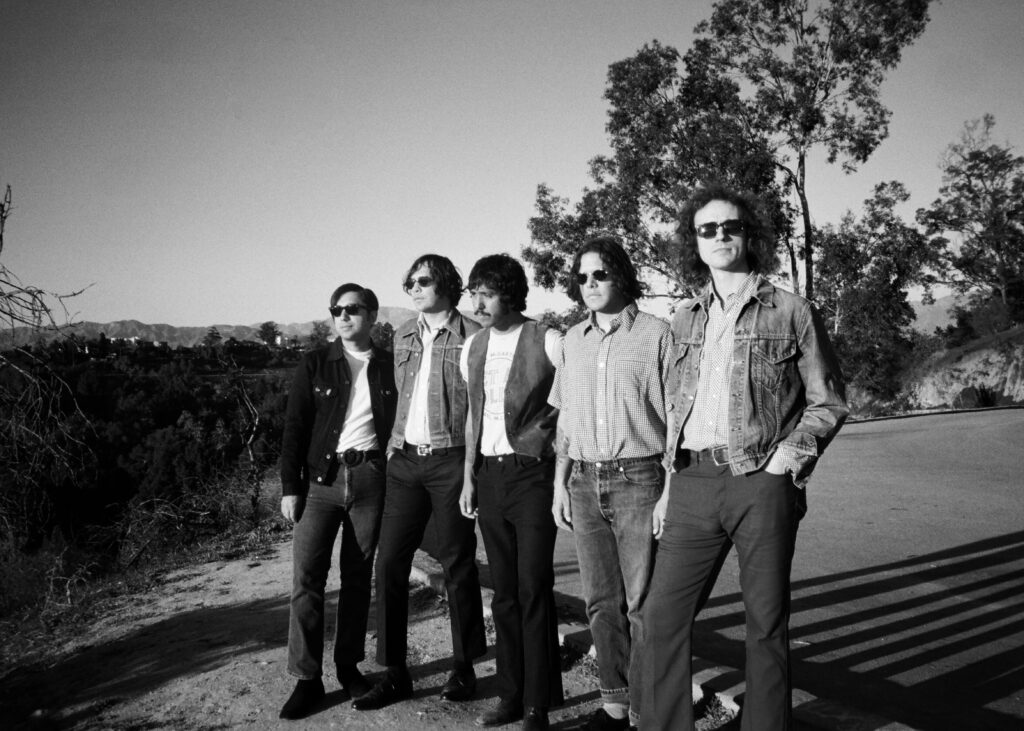 Levitation Room
In Los Angeles, where the weight and pressure of the city's fast paced culture can make your legs feel like pillars, emerges psychedelic quartet, Levitation Room, to break the bonds of gravity with their cosmic wall of sound and thought provoking lyrics. "Just as their name suggests, Levitation Room's music instills the listeners ears with a light feeling of floating. The dreamy guitar and Lo-Fi projections of psychedelic rock and garage are reminiscent of a deep 1960's era, but still grounded in an alternative dreamgaze flavor that permeates modern indie music today." – OC Weekly. Their decidedly hallucinogenic songs whisper and hum the same gentle refrain of their summer of love influences, conjuring up the cognitive imagery of sunny days at the park, spent with friends in a euphoric haze along with lyrical and sonic meditations on life, love, society and self-awareness.
In tradition, and much like the bands and musical troubadours that inspired them, Levitation Room started out with late night jam sessions in a dimly lit garage between fellow musicians and long time friends, Julian Porte and Gabriel Fernandez. Julian, a dedicated street musician who felt he needed a broader platform, found chemistry with Gabriel, who he knew as a guitar player in various teenage punk and garage bands around town. Coming together in 2012, they bonded over a shared love of British Invasion groups (The Beatles, The Kinks, The Rolling Stones) and 1960's psychedelic outfits like The Grateful Dead, Electric Prunes, The Pretty Things and began drafting their earliest tunes. It wasn't until the late summer of 2012, that the band came to fruition when they found a rhythm section in two individuals with almost identical names; drummer, Johnathan Martin, and bassist, Jonathathan Martin. The four began writing songs, playing gigs and recording music out of a quaint studio in East LA.
After the release of their self recorded demo "Levitation Room Vol. 1", they quickly began gaining momentum and performing at local music venues throughout Southern California. 2015 saw the release of their first official debut EP "Minds Of Our Own" released on Burger Records. Later in the spring of 2016, they released their first full length album, "Ethos", with the help of their friend and new keyboardist, Glenn Brigman, who recorded and helped produce the record. Since 2014, Levitation Room has participated in various shows, tours and music festivals across the US and Europe and continues to see the growth in listeners and followers on YouTube, Soundcloud and Spotify (with nearly 2 million plays on their song "Friends"). With the promise of a potentially bright future, Levitation Room has begun to mix and finalize their second album that they hope will display their process of maturity in sound and song- writing, exploring new territories of influence in music and instrumentation, combining folk, jazz, raga, soul, pop and of course… psychedelia. Stay tuned!
Band Members:
Julian Porte : (Lead Vocals/Guitar)
Gabriel Fernandez : (Lead Guitar/Bck Vocal)
Brandon Graham : (Bass Guitar)
John Martin : (Drums)
Glenn Brigman: (Piano, Keys, Farfisa)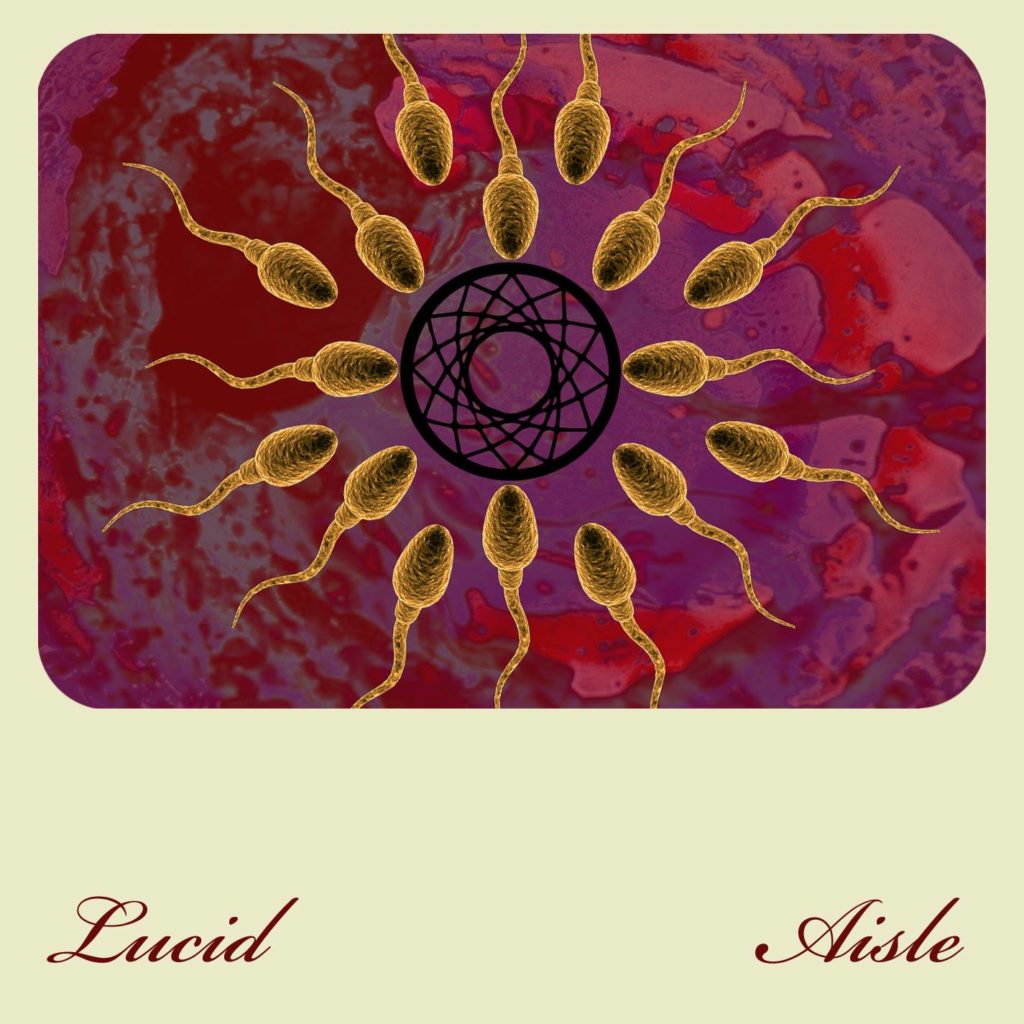 Lucid Aisle
~ Abstract rabbit hole rocknroll ~
• Brent Joel
• Alexander Anderson
• Jon Fust