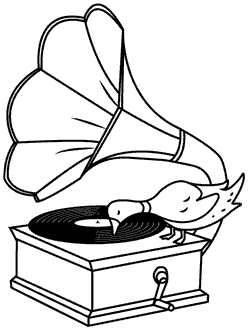 Flipside Fest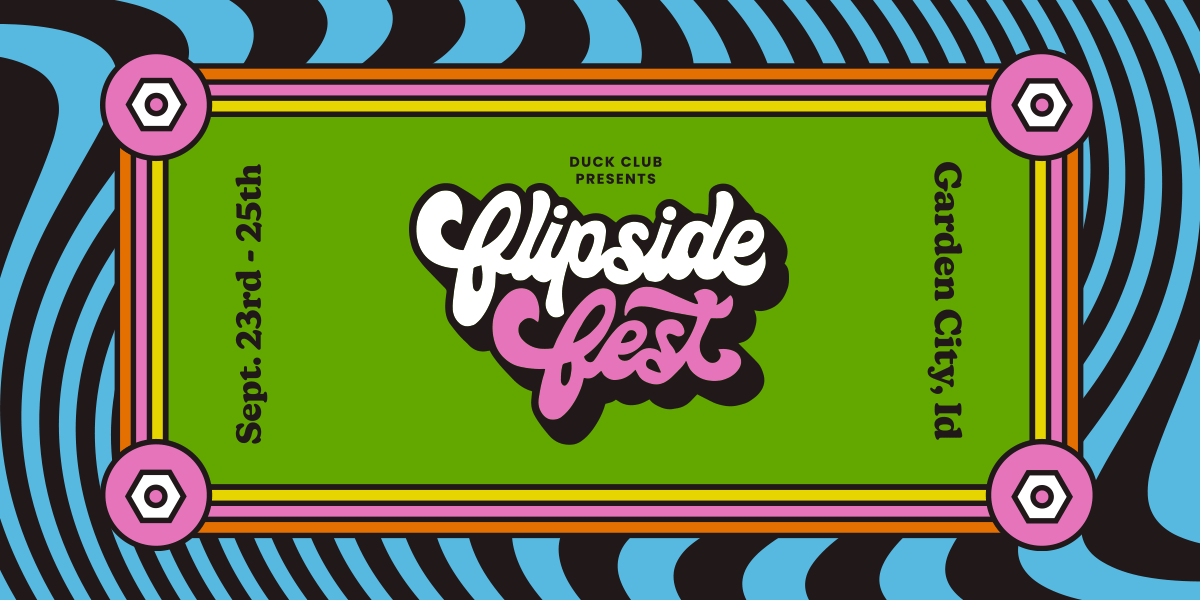 DUCK CLUB PRESENTS THE INAUGURAL FLIPSIDE FEST
A neighborhood music + mural festival in Garden City
Friday, September 23 – Sunday, September 25, 2022
After having Treefort in September of 2021, we heard your cries for a fall festival. And while Treefort Music Fest in September was one of the best, it was a one-off experience. This September, instead of coming together in downtown Boise, we'll catch you on the Flipside.
Flipside Fest is a three-day music and mural festival in Garden City, Idaho. The fest is an all-ages, outdoor, multi-venue festival featuring 50ish local and touring bands, live murals by local artists, and immersive on-foot exploration of the Surel Mitchell Live-Work-Create District in Garden City.
Headliners for the first ever Flipside Fest include Boise's very own BUILT TO SPILL, Bay Area's psychedelic soul outfit MONOPHONICS, and LA's' quickly rising AUTOMATIC, who just released their latest album on Stones Throw Records. All headlining bands will perform at the Main Stage, located in the parking lot of the Visual Arts Collective. Additional acts to perform the inaugural festival are Chicago's reverb-heavy indie trio DEHD, an all time Treefort favorite DELICATE STEVE, LA's groovy bunch DE LUX, Seattle soulful "anthem artist" SHAINA SHEPHERD, and Swiss instrumental sextet L'ECLAIR. 
Additional bands include THE MOSS (Hawaii/SLC), SPOON BENDERS (Portland), GA-20 (Boston), PLASTIC PICNIC (Brooklyn, NY), KENDRA MORRIS (NYC), EXUM (Richmond, VA), WAZUMBIANS (Ghana), THE FRENCH TIPS (Boise) and more!
Late Night Afterparties (21+) will take place after the outdoor shows end and include Portland's TROUBLED YOUTH and CASUAL AZTEC from Bridge Club, a long-standing queer party, San Francisco's BROWN AMY, known mostly for her involvement with the Latino/ Womxn collective Chulita Vinyl Club and Sunday queer party Hard French, along with locals BLACK VELVET, NOT THAT JENNIFER, OROGRAPHIC, DEEVEAUX and more. In addition to live bands and DJs, Somewhere Bar will host Drag Race superstar MARIAH PARIS BALENCIAGA, who was featured on Lizzo's "JUICE" music video in 2019.
FULL LINEUP
Built To Spill • Monophonics • Automatic • Dehd • Delicate Steve • De Lux • Shaina Shepherd • The Moss • GA-20 • Spoon Benders • L'Eclair • Kendra Morris • The French Tips • Exum • Wazumbians • Afrosonics • Angel Abaya • Nick Delffs • Oruã • Lobo Lara • Plastic Picnic • Mr Grant Olsen • Carlos Truly • Itchy Kitty • Moon Owl's Mages • McKenna Esteb • Wend • Blix • Frankie Tillo • Thomas Paul & The Doll Garnet Band • Zero • Steve Fulton • Up Is The Down Is The • Chief Broom • Plum Vision • Lonesome Jetboat Ramblers • Papas • Crush The Monster • The Macks • Darian Renee • aka Belle • Tejano Outlaw • Braided Waves • Trauma Kit • Mandias• Ryan Curtis • Laveda • VEMM • Floating Witch's Head • Ealdor Bealu • High Pine Whiskey Yell • xox • Porcelain Tongue • Neocentrics • Rat Champion • David Henry • Gipsy Moonrise • Jonathan Warren & The Billygoats • Corduroy Blue • Hand Trembler • Aterrima • J. Stokes, Bendi, Past Life Kenny, Scozzari  • JÜN • Mike Coykendall • Trippy Hearts • Wet Pet • Chelsea Smith (Cactus Moon) • Talon Smartt • Leading Lines • Jesse Blake Rundle • Allegedly • Sam Henry Band • Patrick Dansereau ~ DJs ~ Brown Amy • Troubled Youth b2b Casual Aztec • Orographic • Black Velvet • Deeveaux • Not That Jennifer • Jesse Walker b2b Matthew Fit b2b Gizmoe • Tropico 208 (RaBeatz b2b k-schef b2b Bobby Water) • Harley Innocent • Khloe
LISTEN TO THE LINEUP
Listen to all the artists making their way to Garden City on the official Flipside Fest playlist.
Sign up here to receive updates about the upcoming Flipside Fest and other upcoming shows with Duck Club Presents.
PASSES & TICKETS:
Tier One 3-day passes are $89 + single day passes are $39-49 they are available here.
Main Stage Only passes ($35) are available here.
Late Night Afterparties are included in 3-day and single day passes.
Tickets may be available at the door for $15
Early Bird passes are SOLD OUT.
Box Office: FLIPSIDE BOX OFFICE IS LOCATED OUTSIDE OF THE VAC – 3638 OSAGE ST.
Friday 9/23: 3:00 – 10:00pm
Saturday 9/24: 1:00 – 10:00pm
Sunday 9/25: 1:00 – 10:00pm
Food: Delicious local food options will be provided on-site at the Flipside Main Stage (VAC parking lot). Additionally you can grab some yummy eats in the neighborhood at Wepa!, the Lil' Market and Roots Zero Waste Market.
Alcoholic Beverages: 21+ attendees will be allowed to purchase alcoholic beverages, with ID.
Music Curfew: All outdoor music will end sometime around 10:30 PM all three nights of the event.
Late Night Afterparties: Once the outdoor stages shut down, 21+ afterparties will be hosted inside the Visual Arts Collective and Somewhere Bar on Friday and Saturday nights. More information to come!
Murals: In conjunction with the Garden City Placemaking Fund, local artists' murals will be featured throughout the festival footprint.
Venues: Flipside Main Stage (Visual Arts Collective parking lot), Barbarian Brewing, Demolition House, Somewhere Bar, Push & Pour, Surel's Place, Roots Zero Waste Market, Vervain Collective, Coiled Wines, Telaya Wine Co., sPacePort, The Drop, Yardarm and The Sandbar at Riverside Hotel. You stay up-to-date with all of the venues on the official Flipside Fest map.
Partners: Neighborhood partners include Surel Mitchell Live-Work-Create District, Garden City Placemaking Fund, Urban Land Development, Idaho Floor Supply, 34th St Market, Boise Rock School, AudioLab, Visionkit Studio, Push & Pour, Americana Pizza, Project Filter, Dutch Bros, CWI, Mavik Ventures, Western Collective, Community Square Development, Studio 1212, AAA Sign Co and WEPA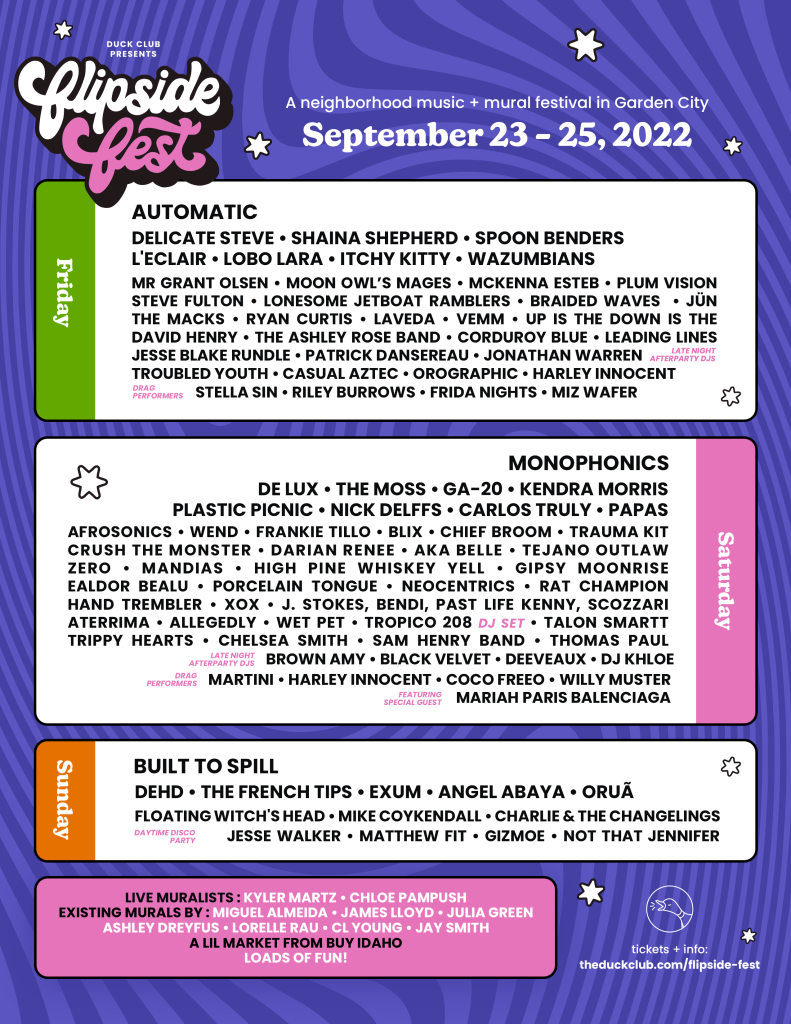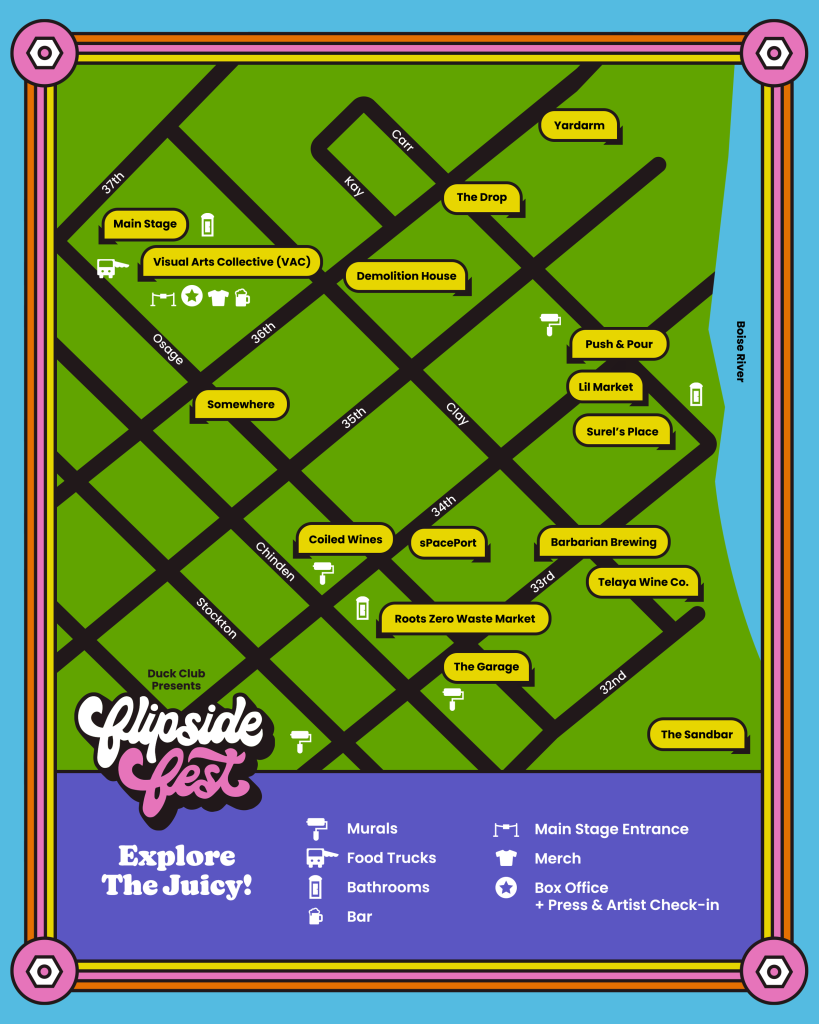 Flipside Fest Rules
Passes and/or tickets are required for all attendees, unless your child is 4 or under.
You must wear your wristband for all days of the festival.
Re-entry is allowed at stages and venues.
Artists are subject to change. Refunds are not available due to specific artist cancellations.
No weapons or firearms.
No coolers.
No outside food or beverages of any kind.
No pets allowed. Service dogs must have ID.
No pro audio, video or photo equipment without media credentials.
No chairs, blankets or umbrellas.
No smoking or vaping within the festival grounds, please use designated areas.
Shows are held rain or shine
Attendees consent to release their likeness to Duck Club in connection with this event.
Security reserves the right to search bags, perform pat-down checks on individuals and refuse/revoke entry at their discretion.
Flipside Fest rules are subject to change. Complete rules will be posted at the venue. Failure to comply these rules may result in your removal from the event.
Flipside Fest FAQ
How do I attend?
There are a few options to attend Flipside Fest – you can purchase a 3-day pass for only $89 or Single Early Bird passes are sold out.
Are there any VIP passes available?
No, there are only GA passes and tickets at this event, no VIP (or ZIPLINE).
How do I enter the festival?
The Main Stage is located at the Visual Arts Collective parking lot where you'll find food trucks, bars, Box Office, Lost & Found, etc. Your wristband will allow you access to all festival venues.
What are the venues?
Flipside Main Stage (Visual Arts Collective parking lot), Visual Arts Collective (late night afterparties indoors), Barbarian Brewing, Somewhere Bar, Push & Pour, Surel's Place, Roots Zero Waste Market, Vervain Collective, Coiled Wines, Community Square Development, and The Sandbar at Riverside Hotel.
Can I stay near the festival?
As a matter of fact, you can! The Riverside Hotel (just down the street/Greenbelt) is right in the festival footprint! Please visit their website to book your stay. Other options are Airbnb, Vrbo, etc.
What is the best way to get to Flipside?
The very best way to get to Flipside Fest is to walk, bike, skate, or ride. Boise Bicycle Project has generously provided bike racks for bike parking, located on Osage Street near VAC and on Clay Street near Barbarian Brewing.
Parking is very limited in Garden City. Parking is available in the public parking lot on W Main St and the public lot at S Whitewater Park Blvd near Quinn's Pond. These parking lots are open 12pm-12am. If your car is parked there past midnight, it will be there overnight. See map for details
Do you offer food & drink at Flipside?
Yes. We will offer an ample selection of food trucks, as well as both alcoholic and non-alcoholic beverage stations. We will not allow outside food or drink inside the venue. Empty refillable water bottles & steel cups will be accepted.
What is the fest going to be like?
Flipside Fest is going to be super similar to Treefort, but like on a mini-scale. There are over 80 artists playing at 10ish venues.
What are the murals all about?
Garden City Placemaking Fund is a partnership between Surel's Place, visionary neighboring business owners, artists, art lovers, and countless volunteers designed to empower new opportunities for public art and creative placemaking in Garden City. At the core of its mission, Surel's Place and GCPF supports artists and champions their role in our community's future. This fund is designed to ensure local, emerging, and BIPOC artists have paid opportunities to create public-facing art and spur the kind of creative placemaking efforts that will keep our community vibrant, unique, and vital to the Treasure Valley and beyond. Existing murals include work from: Treefort & Duck Club's very own Art Director James Lloyd, plus local legendary illustrators & designers Ashley Dreyfus, Miguel Almeida, Julia Green, Lorelle Rau, Mary Arnold and more TBA! You can view their locations on the official Flipside Fest map.
Are there any age restrictions at the festival?
All ages are welcome for all daytime and evening programming. All attendees including children (over the age of 4) must have a ticket due to capacity restrictions. Late Night Afterparties (inside VAC and Somewhere Bar) require attendees to be 21+.
Who is playing the inaugural Flipside Fest?
Check out the festival lineup here.
Where can I find set times?
Check out the full Flipside Fest schedule here.
I am a member of a media team. How can I get press/photo credentials for the show?
Email marissa@theduckclub.com and we will try to answer your requests in a timely fashion.
How can I get involved with Flipside Fest?
Please email info@theduckclub.com.
How do I become a food or goods vendor at the festival?
Please send any vendor requests to info@theduckclub.com.
What else is going on outside the fest?
The Boise River surf wave in Whitewater Park is just a few steps from the festival footprint, down the street from Push & Pour by the Greenbelt. Esther Simplot Park and Quinn's Pond is also just across the river. Enjoy strolling around Garden City, one of the valley's coolest neighborhoods.
Can I bring in a camera to Flipside Fest?
No. Only those with official media credentials can bring in professional photo or recording equipment.
Do you know about other similar concerts coming to Boise?
To name a few: Sharon Van Etten, Angel Olsen & Julien Baker, Aldous Harding, Khruangbin, Men I Trust, Amyl and the Sniffers, Alex Cameron, Flipturn, Ata Kak, Little Jesus, Divino Niño, Spellling, Ginger Root, Os Mutantes, Oddisee & Good Compny, The Soft Moon and many more! See Duck Club's full list of shows at theduckclub.com/shows.