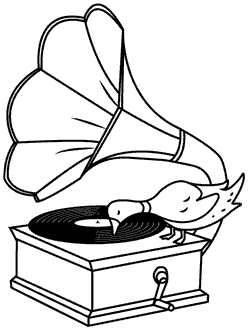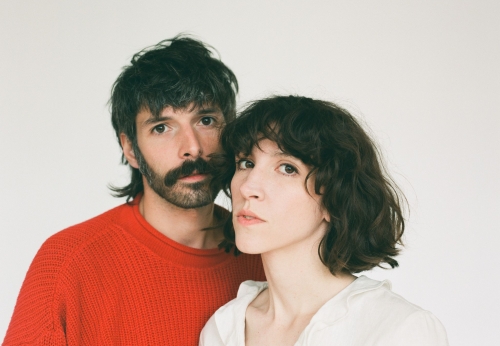 Today, Widowspeak announce their sixth studio album, The Jacket, to be released March 11 via Captured Tracks. Along with the announcement, the duo (singer-songwriter Molly Hamilton and guitarist Robert Earl Thomas) share a propulsive, spirited song about shifting perspectives in increasingly complicated situations. In the music video directed by OTIUM, Hamilton croons "learned to love the ropes when you were caught, see they could be braided a better way and sinking into nothing – you learn to stay" fittingly in front of bulls being wrangled at a rodeo. Watch the "Everything is Simple" video here.
Quote from Widowspeak on "Everything is Simple" – At the beginning of something (a relationship, a project, a job, a new place) you have this very pure feeling toward it. Everything feels less complicated because you're oriented wholly toward that potential. It's undefined, and that makes it easier to understand, because you can't see the problems yet. As time goes on, you learn more, you experience more, and you see where the limitations exist: not even necessarily ones imposed upon you, but where you draw your own lines. Maybe you can't see what was holding you back until it's in the past, and by then others' perspectives contradict your own. Everyone is constructing their own versions of reality. The song was originally going to feed into the drama of the imaginary band, but it's about our own band too. I was thinking about how I'm an inherently unreliable narrator about my own life, and at the same time maybe there are no "true" stories.
Director quote: The concept is centered around the idea of trying, knowing that even if things turn out differently than you intend, the very act itself is what you are striving to achieve.
After coming off of a Fall 2021 US tour with Turnover, the duo have also announced a US headline tour this spring, as well as select dates with Clairo in Florida and Georgia (see below). Tickets on sale Friday January 7.
The Jacket started out with loose strings of a concept, a story about a fictional band:
A chain-stitcher working in the satin district of an unnamed city, a neighborhood of storefront tailors devoted to elaborate costumery for country-western, art rock, ye-ye cover bands that populate the street's bars after dark. The narrator joins one such outfit, "Le Tex" and feels a sense of belonging and momentum, movement beyond what was previously a stable, predictable life. A relationship with a bandmate materializes. Eventually, the group start to write originals. They generate goodwill and momentum, and venture out on the open road seeking new opportunities beyond what the satin district can offer. But the vibrational energy that got things moving is the same that shakes the whole thing apart: the relationship, and the band, disintegrate upon finally reaching their destination, the end of the road. The chain-stitcher heads back to the city, settling back into the rhythm of work, old standards and a familiar place.
The story is self-referential on purpose: it speaks to the absurdity of ego, codependency and shared visions even as it celebrates them. The Jacket finds Widowspeak navigating these contradictions, and although its ten tracks now trace a more abstract arc than the campier initial concept, strands of that earlier narrative remain: "stitches in satin", American cities after dark, glimpses of the open road, dark bars, and backstages where things get left behind. The resulting album is a wizened meditation on performance and past lives from a band who've seen their fair share, hitting their stride now over a decade in.
Written in the months before and after the release of their critically acclaimed 2020 album Plum, The Jacket feels like a full-circle moment for the duo. Thematically, it considers Plum's broader questions about the values ascribed to one's time and labor through the more refined lens of performance and music-making. This is due in part to the band's recent return to New York City, the site of their own origin story, where they recorded The Jacket at the Diamond Mine with co-producer and noted Daptone Records affiliate Homer Steinweiss. In addition to Hamilton and Thomas on guitars, the album features founding drummer Michael Stasiak, as well as J.D. Sumner on bass, and piano and keyboard contributions from Michael Hess.
Sonically, The Jacket finds the band at their usual and best: the album breathes deeply, balancing moments of open lushness with a straightforward, Velvets-y approach. Dynamics shift seamlessly between gentle, drifting ballads and twangy jams, built up from layered guitars, dusty percussion and ambling bass lines. Elsewhere: whimsical flutes, choral textures, and basement organs. Thomas's guitar playing is as lyrical and emotive as it's ever been, and Hamilton's voice: comfortable and effortless. This seamless dynamic is amplified perfectly in the mix by Chris Coady (Yeah Yeah Yeahs, Beach House). The band still wears the same perennial influences on its sleeve: cornerstones like Yo La Tengo, Neil Young, Cowboy Junkies, Cat Power, and Richard and Linda Thompson. They expertly pepper in slow-core, dream-pop, pacific northwest indie, and outlaw country, resulting in a 60s-meets-90s aesthetic. But the duo also wield their own aesthetic feedback loop as a tool of its own, a way to better tell multi-layered stories in their own RIYL language. This sense of sonic nostalgia adds another layer to lyrics that reflect on old selves, invented and true.
The Jacket is a present and comfortable record, imbued with a sense of collective pause and the ease of a band at the top of their game. For all its familiar textures, it still feels entirely fresh within that canon: proudly a guitar record, a rock record, a songwriter's record. A Widowspeak record.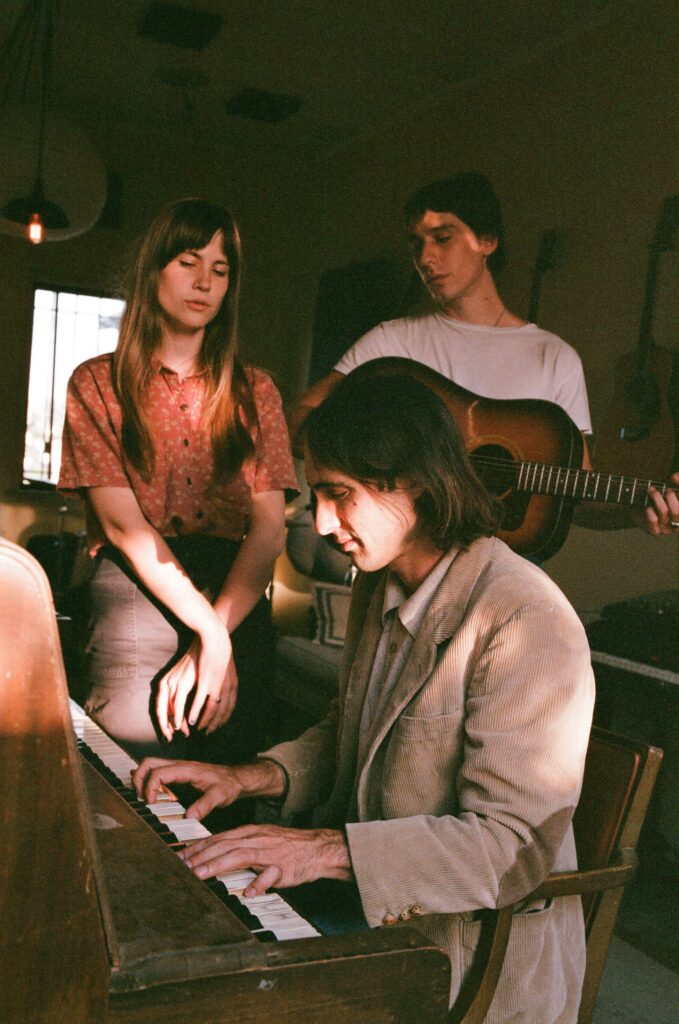 Sylvie
In 1975, John Schwab and his band "Mad Anthony" sat in a barn in Southern California and recorded their songs. It was a narrative that was common during this period – the band was close to a record deal but it never came, and the tapes were stored in a box in a closet. Decades later, in a small town in Ohio, his son Ben Schwab came across them. The recordings would imprint a sound and feeling that he would end up chasing. They were timeless, effortless, and soulful. A harmonic birthright.
Ben had a long career as a professional inline skater that sent waves through the subculture, before watching the industry fade away. Following a period at CalArts, he formed his first band, Golden Daze, and later joined the group Drugdealer. Sylvie is the full return to the musical lineage and spirit that lived in all those lost yet beloved cassettes and reels. True to Mad Anthony's form, Ben and his friends also sat around in a garage in LA to make these recordings. Of course his father's voice is featured prominently, he sings one of the songs. Not much has changed.
-Mike Collins (Drugdealer)