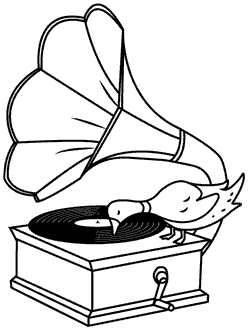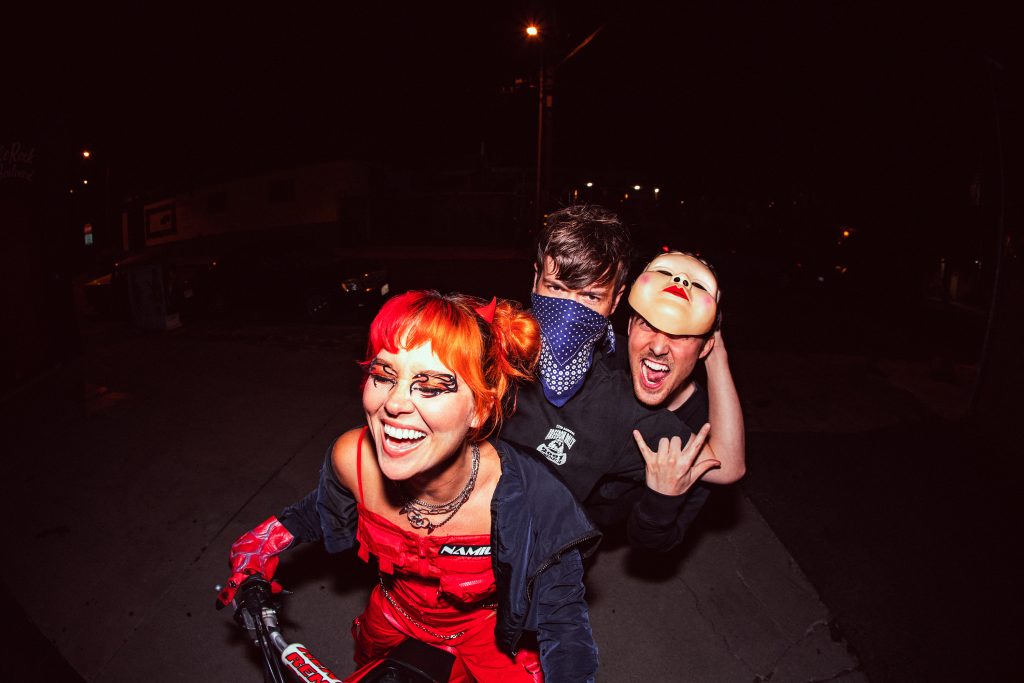 After a successful catfishing on a musician networking website, Sarah McTaggart began to collaborate with producer and bassist Mike Panek across the world, and over the internet writing the beginnings of what would eventually become Transviolet.
She made the move from the Cayman Islands, to Toronto, landing eventually in San Diego where they met for the first time and sparks flew, or at the very least no one was serial killed. Jon Garcia was brought in on drums, and later Judah McCarthy on guitar and keys after moving to LA and signing their first publishing deal.
For two years the band locked themselves in studios across the purgatory that is the San Fernando Valley (which would later be the title of their 2018 release), writing song after song, until piquing the interest of LA Reid and their first major label partner EPIC records.
From the very beginning, Transviolet has made a point to approach music differently. Like when they released their first single Girls Your Age, the band sent out 2,000 plain manilla envelopes to kids across the country containing a cassette tape that only said "play me", not realizing that was pretty near to the exact plot of the horror movie SAW. Blogs and press outlets took notice, but no one cared nearly as much as the mothers across the country when they took to facebook to demand answers, and threaten the band with legal action. It was hilarious.
24 hours later and ‪Katy Perry‬ Tweeted out the song, a week later ‪Harry Styles‬. A flood of attention came to the band and they were thrown into the deep end that is the music industry. Writing with collaborators DreamLab (‪Selena Gomez‬, ‪Miley Cyrus‬, ‪Nicki Minaj‬…) Sam Hollander ( ‪Panic At the disco‬, ‪Fitz and the tantrums‬) ‪Andrew Dawson‬ (‪Kanye West‬, ‪Tyler the Creator‬) and Nate Motte of 3OH!3, among many others, Transviolet put out two more EPs, seeing critical acclaim from countless press outlets.
Now in 2019 with multiple support (Twenty one pilots, LANY, ‪Dua Lipa‬, ‪Joywave‬) and headling tours (US, UK) under their collective belt, and tens of millions of streams – Transviolet is gearing up to release their first Independent full album. Feeling as they're writing the best material of their career thus far, the band couldn't be more ready to show the world, just who it is, they are.
Self written, self mixed, self released, the band is taking the reins and show no signs of slowing down.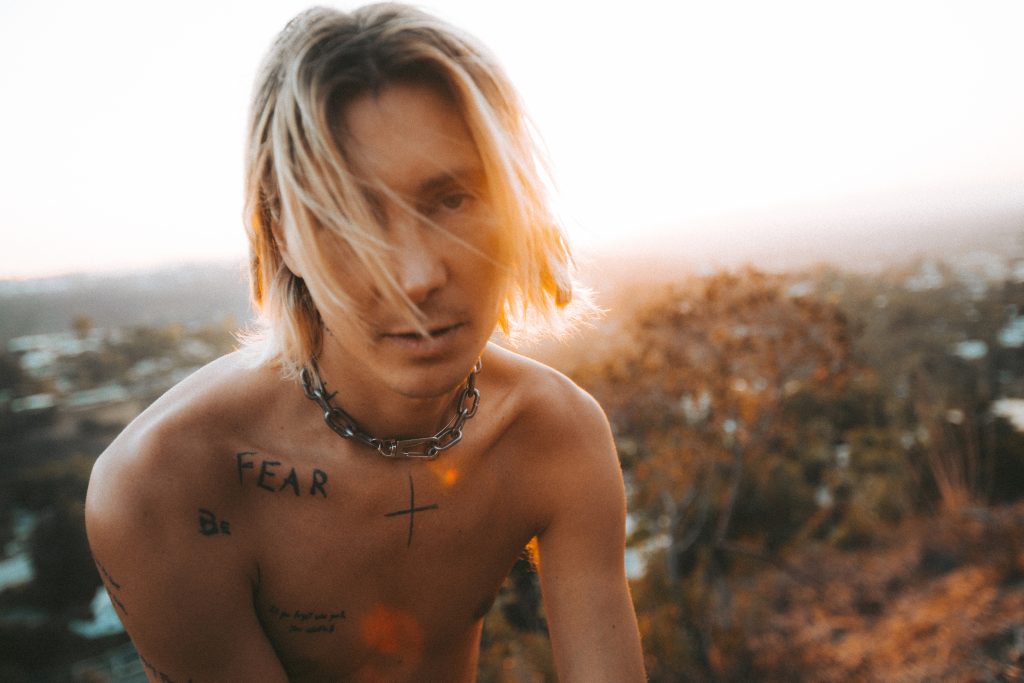 Jagwar Twin
By all accounts, Roy English, the creative spirit behind Jagwar Twin, had been chewed up
and spat out by the industry, with the singer-songwriter dropped from multiple major labels
in his career. Often hidden in the background, despite a clear longing to lead from
centrestage, the artist knows what it's like to sleep on friends' sofas after late nights playing
small bars as if they were Madison Square Garden.
"From my childhood to being an adult, there has been this recurring theme of feeling
misunderstood" the artist sighs. "People would make fun of my voice, which to be fair was
really bad at the time. I never fit in with 'the boys' … or the girls really, and my music never
fit into an industry box. But even when I was literally a starving musician, something inside
compelled me to keep going."
Underrated 2019 album, Subject To Flooding, aligned with a period of project-defining
production work and song collaborations with the likes of Matthew Pauling, S1, Travis
Barker, and Jeff Bhasker. But if Subject to Flooding represented an artist working to figure
out who they were before the pandemic storm, then new album 33 grew out of planted
seeds in the flood rich soil; the underdog is coming for his crown.
"My hope is that the stories on 33 will show the listener to the listener," is English'
fundamental ambitious aim with the new project. "It's about showing possibilities beyond
the grid we're currently living in and, I guess, how a 33-year-old failed influencer finally
found their voice in this digital-first world. I want to make music that makes me want to
dance, too."
33 is a bold statement filled with intention that more than lives up to its creator's lofty
ambition, with 10 addictive songs that stomp forward with attitude like Queen at Wembley
Stadium in 1990. Each song is a mini movie that powerfully tells an emotional story of
coming of age in the social media era, as English's towering vocals channel the galvanizing
showmanship of a Bad-era MJ and Bowie's Ziggy Stardust days.
Lead single "Happy Face" earned English a coveted spot on the YouTube' 'Trending Artists to
Watch' list at the start of 2022. This song is a defiant, ricocheting ball of energy, as the
artist sardonically harmonizes about the fake smiles we're forced to wear in the digital
sphere. It's like Orwell's Nineteen Eighty-Four with disco lights, and surpassed the total
streams and reach of previous major label single 'Loser' at four times the speed, despite its
humble $0 marketing budget. "Tick Tock, Tick Tock, ticking like a time bomb!" he chants,
almost sarcastically. This powder-keg of stadium rock also touches on the emotional
baggage we create while smiling to curate our digital selves.
A hyperactive melodica rages over a break beat as English howls about the "death of my
generation". For the award-winning smile-triggered digital experience of "Happy Face", users
were forced to hold a smile while watching a series of dystopian images on their screens.
With this being the only place to hear the song, fans that lost a smile would cause the
screen to melt, but smiling for the duration would unlock a limited edition merch capsule.
He insists the independent single, which recently crossed 21 million streams on Spotify (and
growing) and also graced YouTube's top 100 songs list, ultimately acts as a hopeful rallying
call. "I want to show there's a way out of this collective fog and into something better," says
Roy. "But that is something everyone has to find for themselves."
On the flamboyant "I Like To Party", English muses about how all we want to do right now is
"Zoomy Zoom Zoom" and "stay in and pretend" due to our collective pandemic anxieties.
While the kaleidoscopic funk of "Pay Attention", which echoes the euphoric bassline of
Patrice Rushen's 1982 classic "Forget Me Nots", is English's commentary on the currency of
attention ("Everybody gotta pay me. You gotta pay Attention"). Both of these songs sound
like Billboard Top 100 hits, and their sentiment mirrors the singer's own journey from an
industry outcast to leading a sea of change in popular music.
The rising artist hopes this upcoming record can spark an internal awakening ("Light the
flame on the top of your head" he urges on "Down To You"), leading listeners to see
themselves more clearly within today's always-on digital culture. "Michael Jackson, Bowie,
Madonna, and Freddie Mercury created revolutions in the middle of sweaty dance floors,
where people were having the time of their lives," he says. "I know it's ambitious, but that's
what I'm aiming for too." English worked with grammy-nominated producer Matthew Pauling
(Twenty One Pilots, 5 Seconds of Summer) to bring the music to life, which he recognises
as: "Incredibly rare chemistry. We both push each other [in the studio] in ways that create
something bigger than either of us as individuals. He does things that I would never think to
do."
Jagwar Twin also wants to redefine independence, showing a different path to success
without major label backing. "I believe we're coming into an era where new ideas, feelings,
and authenticity will be valued again," he enthuses. "An unknown, undiscovered artist, with
no backing, money, or traditional promo can "make it" if they create something compelling.
NFTs and blockchain unlock a whole new paradigm for artists to tell stories where fans are
incentivized to help build and grow a community," English says. "But I also want people to
question the utopia of independence and Web3 and learn from the mistakes of Web 2.0. We
can't move into the future naively."
To understand Jagwar Twin, I guess you have to look backwards. English says he was bullied
at school, and he embraced ballet while the other boys were more occupied with sports and
video games. He says he grew up serenaded by the lucid new romance storytelling of Joni
Mitchell and Bob Dylan, who the singer's mom played around the house. This is why his
music is always underpinned by three-dimensional storytelling. "Music provided an escape and
a pathway to discovering who I was. I love telling stories with my voice. When I tell a story I believe in
it's like there's a fire in me that comes out through my voice."
As this ambitious new album progresses, English' confidence seems to blossom, with
anthemic highlight "Your Soul Is A Star" containing the cathartic line: "Your soul is a star, it's
alive, I can see it. Do you know who you are?" The unwinding journey of "Another Way To
Heaven" also appears to mark Jagwar Twin's evolution, as he sings "But who was I to know?
I wanted to see myself and where I could go." The campaign around 33 will be brought to
life through a set of digital experiences that fully immerse fans in this story, using NFTs as
keys to discover, collaborate, and share in Roy's journey to unlock what it means to be an
artist in an influencer-driven online culture.
Mixed by Jeff Ellis (Frank Ocean, Doja Cat), English hopes the stories on 33 will serve as a
catalyst. "With 33, I want to show that popular music can push boundaries and unite," he
concludes, "while giving space for a new generation to look inside and reimagine their own
world." Jagwar Twin's new dawn has only just begun … catch up if you can.