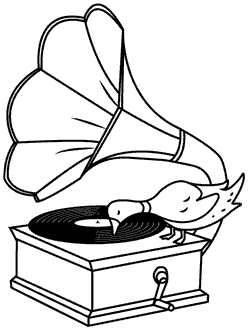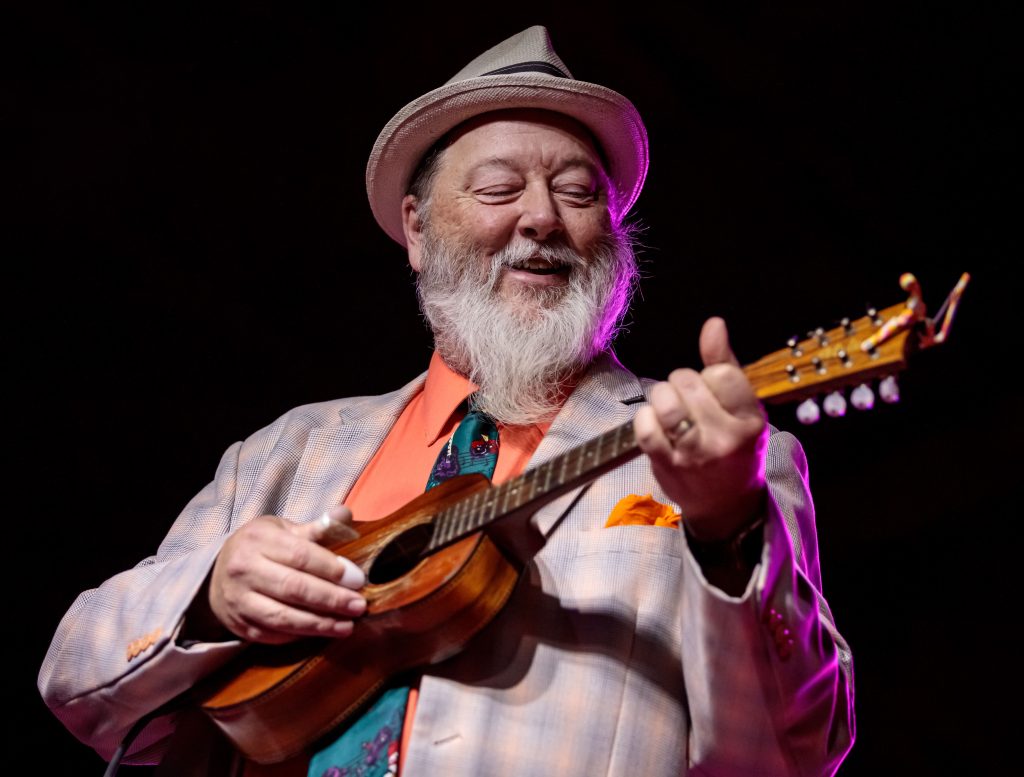 Shinyribs defies genres as a sonic melting pot of Texas Blues, New Orleans R&B funk, horn-driven Memphis Soul, country twang, border music, big band swing, and roots-rock. The Austin-based nine-piece (sometimes 10-piece) supergroup is led by Kevin Russell, the charismatic frontman with colorful suits and extravagant shoes who continuously swaps out an electric guitar for a ukulele and never falls short of creating a cinematic experience with on-stage antics that often include him donning a light-up cloak or leading a conga line through the crowd.
Shinyribs' new record – Transit Damage (July 2023 on Blue Elan / Hardcharger Records) is, in Russell's words, "the record l've been trying to make for most of my career. This is a collection of songs that relate to each other in a myriad of ways: musically, lyrically, emotionally. It's a real throwback to the era of complete albums, and draws from songs I've written throughout my life. I hope listeners can take the time to fully immerse themselves in the whole thing."
To help him flesh this collection out, Russell picked producer and longtime friend Steve Berlin (from Los Lobos) to help him arrange and record Transit Damage. Together they chose to work at another auspicious location, The Finishing School studios in Austin. The Finishing School is housed in the former home of Austin legend George Reiff (The Chicks, Bruce Robison, Ray Wylie Hubbard) who engineered and produced Shinyribs' debut Well After Awhile back in 2010. Reiff, a close personal friend of Russell's, tragically passed away from. cancer in 2017, yet his legacy lives on. His home studio was refurbished by Band of Heathens' Gordy Quist, and reopened a couple years ago with acclaimed engineer Jim Vollentine.
Berlin helped source a number of auxiliary players around town to help expand the Shinyribs sound, and realize Russell's bigger vision. Shinyribs' bassist Mason Hankamer also lent some producing skills, helping arrange many of the songs.
Shinyribs was named Best Austin Band at the Austin Chronicle's Austin Music Awards (2017, 2018), awarded Album of the Year for I Got Your Medicine (2017), and Best 2020-Themed Song for "Stay Home" (2020). Russell's Shinyribs have recorded six albums: 2010's Well After Awhile; Gulf Coast Museum (2013); Okra Candy (2015); 2017's award-winning I Got Your Medicine; a compilation of holiday standards and new compositions The Kringle Tingle (2018); and the group's latest soulful release, Fog & Bling (2019). Shinyribs latest project, Late Night TV Gold, released in August 2021.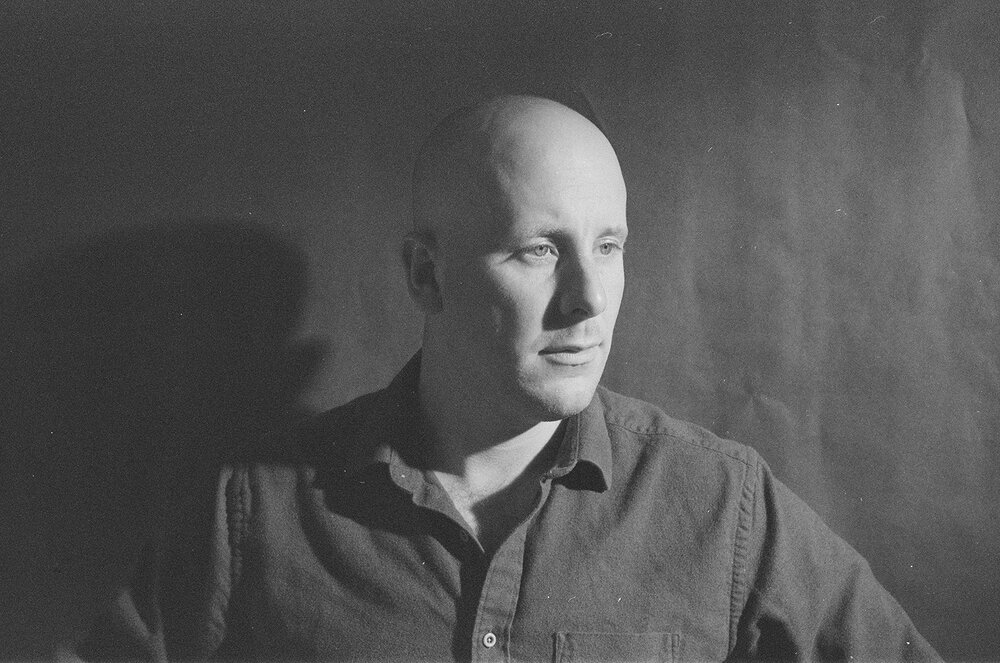 Nick Delffs
Nick Delffs grew up in Mendocino County, a lawless stretch of coastline that's hard to get to and, for many, hard to escape. Nick did — emerging in the early aughts as the frontman for Portland band The Shaky Hands, whose sharp, jittery rock was anchored by Nick's quavering vocals and questing lyrics. The Shaky Hands were mainstays of Portland on the verge of a major shift, and they rode that shift a while, signing to Kill Rock Stars and touring internationally with some of the bigger names in indie rock. But a hiatus in 2011 became indefinite and Nick Delffs was once again cast into the world: working as a sideman, releasing solo records, doing manual labor, going deeper into his spiritual practices, and, crucially, becoming a father.
Becoming a parent can affect different artists in different ways. Nick rode that change with surpassing grace and maturity. 2017's Redesign, his first full-length under his own name, reflected the transition. In "Song for Aja", Nick touched on other concerns familiar to those who follow his work: love of the natural world; longing for spiritual and physical connection; the desire to suffer with meaning and exult with abandon, to embrace somehow the world in its maddening contradictions and find the unity at the core.
Childhood Pastimes, his second release on Mama Bird Recording Co., is both more focused and, despite being technically an EP, more ambitious. It's a four-song cycle — one song with many movements or four songs that bleed into one another, depending on how you hear it — that can be viewed either as a personal journey or an archetypal passage of a human being through four discrete stages: roughly, the movement from childhood innocence into adolescent adventure (The Escape); the sudden immersion into a life of discovery and excitement (The Dream); the first experience of romantic love, followed by the onset of heartbreak, dissolution, breakdown of self (The Affair); the emergence into a new way of thinking, a fresh perspective that encompasses all the suffering and joy into a balanced whole (The Outside).
Nick plays nearly all of the instruments here and the result is a unified aesthetic, born ultimately of his deep-seated love of rhythm: the thrum and throb of the acoustic guitars, the percussive melodic bang of the elegantly-crafted piano lines, and always, always the insistent, driving drums, propelling the record, and the listener, on this journey as the four tracks bleed into one another, one body, one blood, one beating heart. The concept of four songs that are really one suite of music requires a sure hand, and Nick's never shakes: the way the songs blend together while retaining their distinctiveness — from the poppy exaltation of "The Escape" to the cold intensity, almost like an acoustic Kraftwerk, of "The Affair" — shows a songwriter and musician who has fully grown into his powers.
Those who have followed Nick's career may see this as a culmination of years and years of honing and fine-tuning his bountiful gifts, and wonder with delight what might come next. For those who haven't listened to Nick before, Childhood Pastimes is the perfect entry point, a distillation of what's come before and the promise of a new beginning.