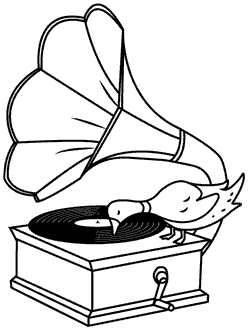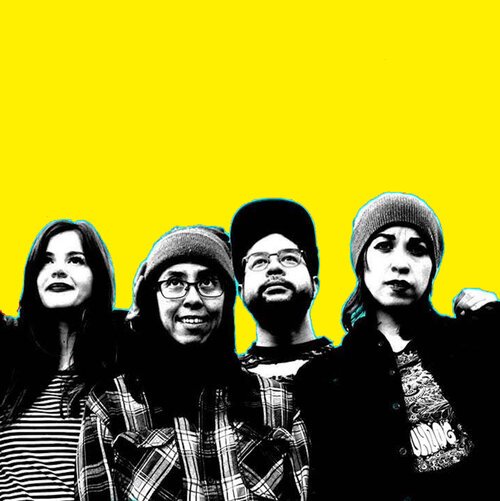 LIFE TILTS FROM ONE EXTREME TO THE NEXT.
PRISM B!TCH DOES AS WELL. THE ALBUQUERQUE QUARTET—LAUREN POOLE [BASS, VOCALS], LILAH ROSE [KEYS, GUITAR,VOCALS], CHRIS WALSH [GUITAR], AND TERESA CRUCES [DRUMS, VOCALS]—HOP FROM ROBUST RIFF-ERY TO STICKY SWEET HOOKS BEFORE DIPPING BACK INTO MOMENTS OF DISTORTED BLISS AND WARM MELODIES. WITH NO SHORTAGE OF UNEXPECTED THRILLS, THEY CONSTRUCT SOMETHING OF A SONIC ROLLERCOASTER ON THEIR 2021 INDEPENDENT FULL-LENGTH DEBUT, PERLA.
"WE'RE AN AGGRESSIVELY FRIENDLY BAND," SMILES TERESA. "WE COVER A SPECTRUM OF TOPICS. THE MUSIC CAN BE SERIOUS AND EXISTENTIAL OR SUPER FUN—JUST LIKE REAL LIFE."
"WHEN YOU LISTEN TO US, MAYBE YOU FEEL LIKE WE VISITED YOU AT HOME, LISTENED TO WHAT YOU HAD TO SAY, AND EVEN HELPED YOU CLEAN UP," LAUGHS LAUREN.
LAUREN AND CHRIS FIRST MET AS MEMBERS OF A SMALL THEATRE COMPANY, WHERE THEY DREAMED UP A PLAN FOR A PERFORMANCE ART PROJECT IN THE GUISE OF A BAND. IN 2015, THEY CROSSED PATHS WITH RECENT NEW MEXICO TRANSPLANT LILAH BEFORE ROUNDING UP TERESA. THEIR INITIAL PROJECT IDEA SOON MORPHED INTO AN ACTUAL BAND, WHICH THEY NAMED PRISM B!TCH. THE GROUP WANTED TO TAKE "BITCH" BACK AND HOLD THAT WORD WITH PRIDE.
"WHEN LAUREN ASKED ME TO BE A PART OF THIS PERFORMANCE ART PROJECT, WE WANTED TO MAKE SURE THE SONGS WERE REALLY GOOD, WHICH PUSHED US TO FOCUS MORE ON THE SONGWRITING THAN THE ACTUAL STORY," EXPLAINS CHRIS. "THIS LED TO THE CREATION OF OUR BAND MORE SO THAN A THEATRE PROJECT."
PRISM B!TCH MADE THEIR INTRODUCTION WITH 2017'S THE GETAWAY EP BEFORE UNLEASHING THE SELF-TITLED PRISM BITCH EP A YEAR LATER. ALONG THE WAY, THEY'VE AMASSED OVER 100K CUMULATIVE STREAMS, WON THREE WEEKLY ALIBI "BEST OF BURQUE" MUSIC AWARDS, AND IGNITED ICONIC STAGES, INCLUDING THE WHISKY A GO-GO, THE ROXY, AND WEBSTER HALL. NOT TO MENTION, THE QUARTET HAS ALSO TOURED UP AND DOWN BOTH COASTS IN SUPPORT OF INDIE ROCK MAINSTAYS BUILT TO SPILL. INSPIRED BY EVERYONE FROM THE PIXIES TO YEAH YEAH YEAHS, PRISM B!TCH HAS CRYSTALLIZED AN UNPREDICTABLE AND UNDENIABLE SIGNATURE SOUND ON PERLA. WORKING WITH PRODUCER TOSHI KASAI [FOO FIGHTERS, THE MELVINS], EACH BAND MEMBER'S PERSONALITY SHINES ON TAPE WITH "THE POP PUNK FROM LILAH, THE HAIR BAND VIBES FROM TERESA, AND THE BLUESY RIFFS FROM CHRIS."
THROUGHOUT 2020, PRISM B!TCH PAVED A PATH FOR PERLA RELEASING ANTHEMS SUCH AS THE FOREBODING PALM-MUTED STOMP AND SCREAM OF "II," BASS-HEAVY ALTERNATIVE FEVER DREAM "HEATHERS," AND SUN-SPIKED GUITAR MELODIES ON THE EBULLIENT "IN N OUT." MEANWHILE, THE 2021 SINGLE "ONE SHOT" ROLLS ALONG ON A MARCHING BAND-STYLE BEAT BEFORE RAPTUROUS DISTORTION CURLS AROUND A PUNCHY REFRAIN.
"'ONE SHOT' IS ABOUT PUSHING THROUGH A HARDSHIP AND GIVING IT YOUR ALL," LILAH SHARES. "I REMEMBER WHEN LILAH SENT US THE DEMO, IT REMINDED ME OF MOMENTS OF CLARITY WHEN SOMETHING DOESN'T HAVE POWER OVER YOU ANYMORE AND YOU'RE SUDDENLY BRAVE," ADDS LAUREN.
AFTER TOURING WITH BUILT TO SPILL, THEY WELCOMED FRONTMAN DOUG MARTSCH FOR A "DREAMY GUEST SOLO" ON "STARLIGHT." RUMINATING ON THE FRAGILITY OF EXISTENCE IN THE WAKE OF LILAH LOSING HER DAD, ETHEREAL VOCALS BLAST OFF OVER LUSH INSTRUMENTATION, A BOLD DRUMBEAT, AND A SOARING SOLO.
"IT'S ABOUT MORTALITY AND HOW WE'RE ALL GOING TO DIE," LILAH EXPLAINS. "YET, DEATH IS BEAUTY, BECAUSE WE BECOME STARLIGHT WHEN WE GO. WE'RE ENERGY AS WE LIFT UP INTO THE ETHER." "NONE OF US ARE GETTING OUT OF HERE ALIVE," INTERRUPTS LAUREN. "SO, ENJOY WHAT'S BEAUTIFUL IN THE BREVITY AND EXPERIENCE EVERYTHING YOU WANT TO WHILE YOU'RE HERE."
"IT'S OUR HUGE ROCK ANTHEM," ADDS CHRIS. "THERE ARE A LOT OF BREAKDOWNS, WHICH REMIND ME OF A STAR. IT GETS BIGGER, BLOWS UP, AND BECOMES SOMETHING ELSE. IT'S AN EXISTENTIAL ROCK OUT."
THE ALBUM TITLE, PERLA, REPRESENTS ANOTHER BREAK FROM TRADITION. NAMED AFTER TERESA'S MOTHER, IT FILLS A VOID. "THERE'S DAD ROCK, BUT THERE'S NO MOM ROCK," OBSERVES TERESA. "WE'RE ALL CLOSE TO OUR MOTHERS, SO IT WAS SPECIAL TO HAVE SOMETHING NAMED AFTER ONE OF THEM. MOMS ARE COOL!"
FOR AS CRAZY AS LIFE MAY GET, WE CAN THANKFULLY LEAN ON PRISM B!TCH FOR THE RIDE.
"WE'D LOVE IT IF THIS ALBUM COULD BE SOMETHING YOU PUT ON WHEN YOU FEEL LOW OR UNINSPIRED," THE MUSICIANS AGREE. "WE'VE ALL BEEN THERE. MUSIC IS THE UNIVERSAL WAY TO FEEL BETTER. WE HOPE THIS ALBUM IS LIKE YOUR BEST FRIEND OR WARM BLANKET YOU CAN REACH OUT TO. ALSO, WE WANT YOU TO HAVE A GOOD TIME!"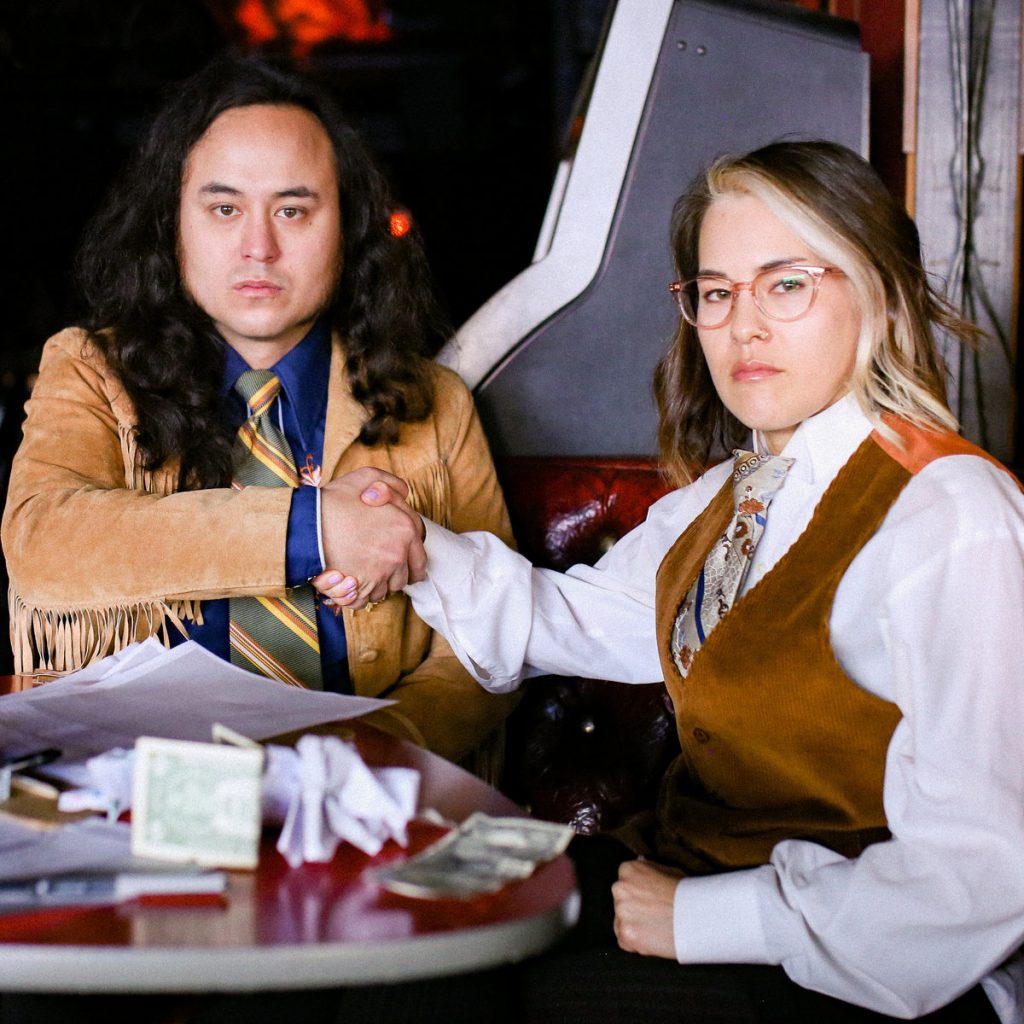 Dirt Russell
"Dirt Russell is what happens when a snarling werewolf and a time-traveling resistance fighter from the age of The Great A.I. Uprising have a meetcute in a ghost town under a full moon."
– Dusty Aunan (our best friend)
Roller Dome
Newly gracing stages and festivals in the high desert rock scene of Boise, Idaho, female-fronted Roller Dome (founded 2021) invites you to nestle into the dark, sludgy rhythms of their 90s inspired songs about love, loss, and self-discovery. The soulful, honeyed vocals and washy rhythm guitar of front gal, Gia Trotter (of Boise bands Mostly Muff, 2X2 and The Very Most), set the tone, and are given backbone by the mesmerizing deep grooves of drummer Robert Reeves (Jetski, The Brents, and 2X2). Hard-hitting, melodic leads from guitarist Nick Schug (Get Wet+, and Manville), and muscly electronic keys by Cory Hentrup (Hummingbird of Death and Toy Zoo), fill out the songs' narratives and hooks, and invite the listener to lose themselves in the irresistible network of Roller Dome's song caves. Bring a lantern.