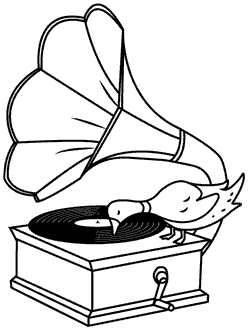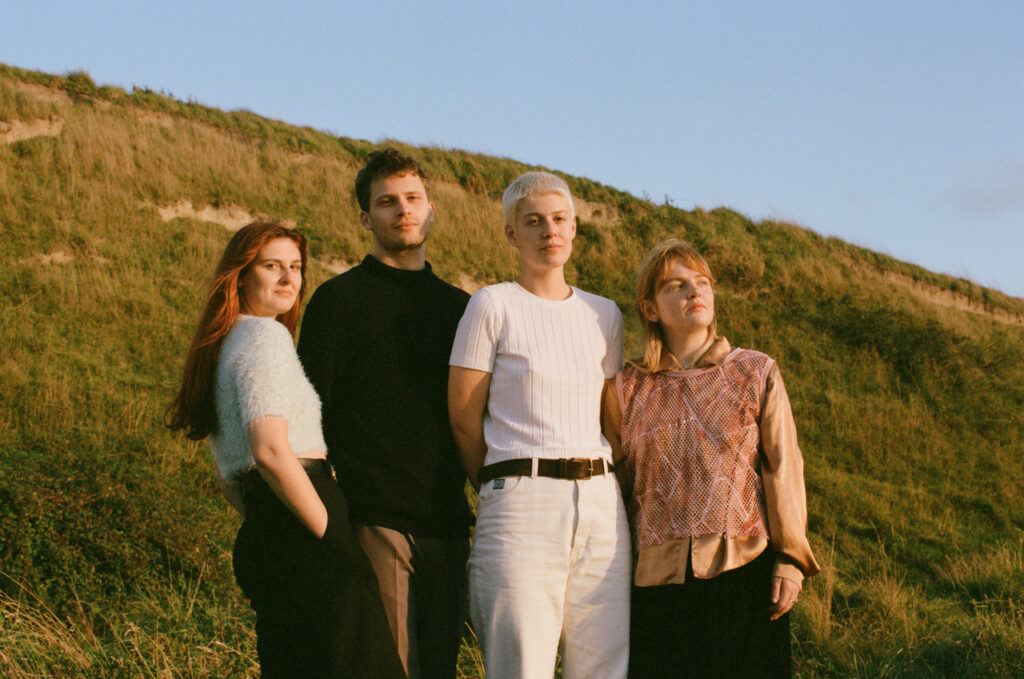 When Porridge Radio's Dana Margolin, one of the most vital new voices in rock, began to consider the themes of their new album, three vivid words emerged: joy, fear and endlessness. She had called the band's third full-length, Waterslide, Diving Board, Ladder To The Sky, an image that's partly inspired by a collage by the surrealist artist Eileen Agar, and evokes the ducks and dives, slippery slopes and existential angst of life. But Dana was also drawn to the story of Jacob's Ladder from the Old Testament which, "symbolises the ups and downs of human life, of virtue and transgression," she explains. The idea that no one emotional state is binary is central to the album. "Within this album the feelings of joy, fear and endlessness coexist together," says Dana.
That mix of emotions has defined Porridge Radio's past two years to say the least. It's a strange sensation, becoming a breakthrough band who are breathlessly championed by every major music site, without being able to experience any of it in the real world. When they released their 2020 album Every Bad, they were about to fly to South By Southwest, support Car Seat Headrest across the States, and then tear up the festival circuit back home. But it was all cancelled due to the pandemic. In spite of that, they've managed to become one of the UK's most thrilling acts, from DIY darlings to a Mercury-nominated tour de force in the space of less than a year. Perhaps that's because their barbed wit, lacerating intensity and potent blend of art-rock, indie-pop and post-punk sounds like little else around.
For Dana and drummer Sam Yardley, keyboardist Georgie Stott and bassist Maddie Ryall – who met in Brighton and formed a band in 2014 – global recognition had been a long time coming, after years of booking their own tours and self-releasing their music. But in some ways, Dana welcomed the pause. She had been struggling to reconcile the lo-fi Dana of the Brighton scene with Bona Fide Indie Star Dana, hurtling into a new league – not only a musician but an artist in every sense, who has painted all three of Waterslide, Diving Board, Ladder To The Sky's expressive covers. Suddenly, there were magazine covers instead of fanzines. Then lockdown landed. "It's actually terrifying to be seen," she says. "I was having panic attacks all the time, because I was aware of being perceived in a new way."
Margolin was quickly becoming regarded as one of the most magnetic band leaders around with an ability to "devastate you with an emotional hurricane, then blindside you with a moment of bittersweet humour" (NME). But if Every Bad established Dana's bravery in laying herself bare, her band's third record takes that to anthemic new heights. Waterslide, Diving Board, Ladder To The Sky is the sound of someone in their late twenties thrashing out how they feel during these confusing, frustrating, stop-start years, facing down the disappointment of love, and life, and figuring out how to exist in the world, without claiming any answers. Dana's songwriting and delivery is more confident, with the emotional incisiveness of artists like Mitski, Sharon Van Etten and Big Thief. While there are moments of guttural release, she also finds soft power on songs like the piano-led 'Flowers' and the closing title track, where she sings over an acoustic guitar. "I used to think I had to be loud to be heard," she admits, "but now I'm definitely less afraid of being gentle."
Thematically, Waterslide, Diving Board, Ladder To The Sky is as unwavering as ever. Existential dread, death, health anxiety, loneliness and the comfort of connection are wrangled with. Dana's streams of consciousness turn the mirror, often unflatteringly, on her weaknesses and she attempts to take ownership of her "bad habits". "I'm embarrassed by how vicious I can be sometimes," she admits. The songs have a physicality about them, a fleshy rawness, but they're also open to risk, dealing with the powerful catharsis that occurs when you allow the full intensity of an experience to take hold – perhaps something that we instinctively resist.
"Most people are terrified about confronting emotion," says Dana, "or of reckoning with yourself. But writing has always been a place where I can lean into that." It's what's always set them apart from their peers in the UK and on WSDBLTTS they sound more in line at times with the American emo greats. "We're making music in a scene that is very emotionally repressed," she continues, "sometimes if I listen to nu-metal or emo lyrics, I find that we seem to fit in better emotionally in that world. They're as cringe as me. '
The band's first new single, 'Back To The Radio', sets out their stall, a lurching call to arms that contrasts Dana's lyrics of panic and closing herself off – "lock all the windows and march up the stairs" – with a rousing end-of-night chorus made for clutching your friends closely. The band's sound, co-produced by Tom Carmichael, Dana and drummer Sam Yardley, has also stepped up: it's panoramic and sparkling, elevated by ambitious instrumentals. "I kept saying that I wanted everything to be 'stadium epic', – like Coldplay," says Dana, with a knowing smile. If that sounds like a jarring proclamation then a glance over the list of references whose names came up during the creative process – first at PRAH Studios in Margate and then at Eastbourne's Echo Zoo – reveals influences as varied as Bruce Springsteen, Beach House, Carly Rae Jepsen and Brighton alt-poppers The Go! Team.
WDBLTTS never sounds studied – the band has distilled their myriad influences into a sound that's unequivocally Porridgey – although some songs have clearer outlines. They describe 'Jealousy' as Deftones meets Portishead, with its trip-hop crunch, ghostly piano and careening wall of static. The album's climactic single 'The Rip', possibly their most ambitious song yet, with its gloriously widescreen distortion that does exactly as the title suggests, is their attempt to do a Charli XCX-sized pop take on alt-rock. These were opportunities for Dana to test her limits as a musician. "My guitar playing got stronger, I was writing parts I didn't know how to play and then having to learn them," she says. "I tried to push myself out of my comfort zone all the time. If you listen to our debut album [2015's Rice, Pasta and Other Fillers], the songs are good but there's a recklessness to them because I was so keen to finish them quickly and move on to the next. This time I was trying to exercise patience."
WDBLTTS also explores something that Porridge Radio are perhaps less known for: playfulness. They created a junk-shop drumkit out of "metal ashtray buckets from the car yard outside the studio", which you can hear on 'I Hope She's OK 2' and 'Trying'. The playful wibble of the synthesiser punctuates songs and that playfulness extends to their visuals, too, like the pastel papier-mâché world, created by Dana's sister Ella, of the 'Back To The Radio' video. "I think the album needed to have that balance," Dana explains, adding that it reflects how she moves through the world: "If I'm broken down on the floor crying, of course I need compassion, but I also need people to laugh at me and with me, I need to be reminded how absurd everything is."
Balance: that's the word that Waterslide, Diving Board, Ladder To The Sky seems to be eternally striving for – joy, fear and endlessness in harmony. But there's also self-acceptance. Dana is more aware of how she's creating a persona as her star continues to rise, and how she's singing personal songs that now belong to other people. She's had people tell her that her Every Bad got them through their cancer diagnosis, their break-up, their isolated lockdown. But now she feels it gives her purpose. "It makes me think, 'Okay, there's some use in this self indulgent thing I'm doing'," she says. "I wrote these songs for myself but I think everyone wants to feel like what they're doing is useful in some way. I'm learning to embrace both now, the parts that are for me, and the parts that are for everybody else."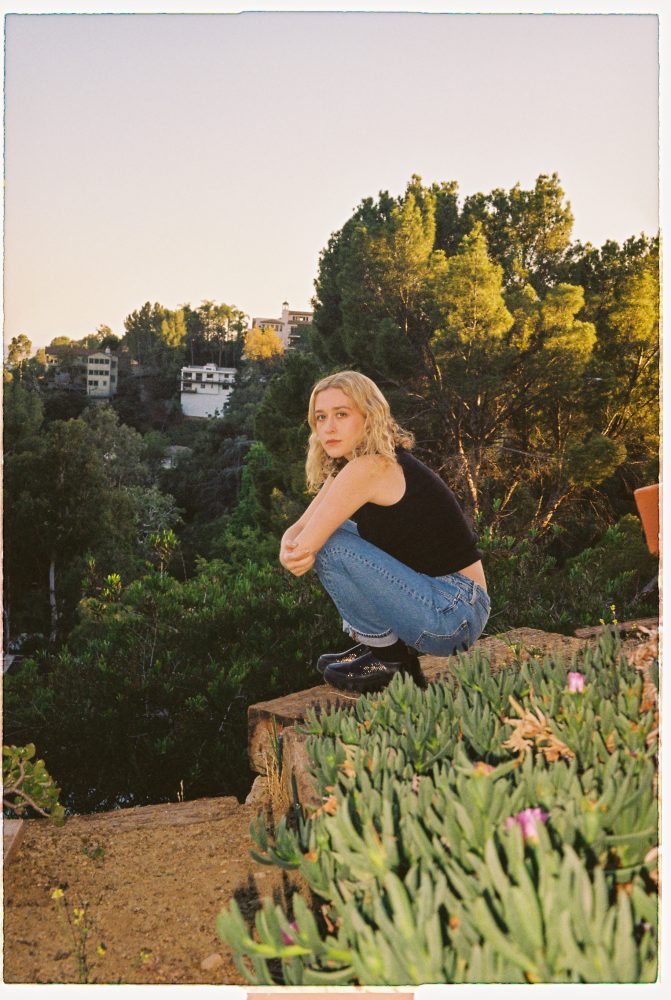 Blondshell
Blondshell is the angriest, clearest, and most vulnerable side of LA-based singer/songwriter Sabrina Teitelbaum. Blondshell is a woman who knows where her wounds are and instead of looking away, she studies them, cleans them, and sews them back up.
Growing up in the early 2000s, in a chaotic New York City household, Teitelbaum sought comfort in the music of legends like Patti Smith, Joy Division, and the Velvet Underground. In a fingerless gloves phase, she found Imogen Heap and Elliott Smith, singing their songs at open mic nights around Manhattan. She discovered her sexuality around this time and found confidence in her queer identity while walking around the Lower East Side, listening to Tracy Chapman and Sophie B. Hawkins.
Teitelbaum quickly learned to tell her own stories through songwriting and found relief in confessional lyricism – equal parts devastating and droll, sexy and tempestuous, yet always deeply relatable. It took her some time and a previous project to find her sound, but she has always clung to uncompromising truth in music, having honed her technique with producer Yves Rothman.
Over wailing guitars and a masterful sense of melody, Blondshell sings about getting saved "not by Jesus but by validation." Although her tones are predominantly dark and brooding, there is a bright sense of hope that shines through her adventurous song structures and undeniable hooks. Why else would you sing about getting saved, if not for believing that things could actually get better?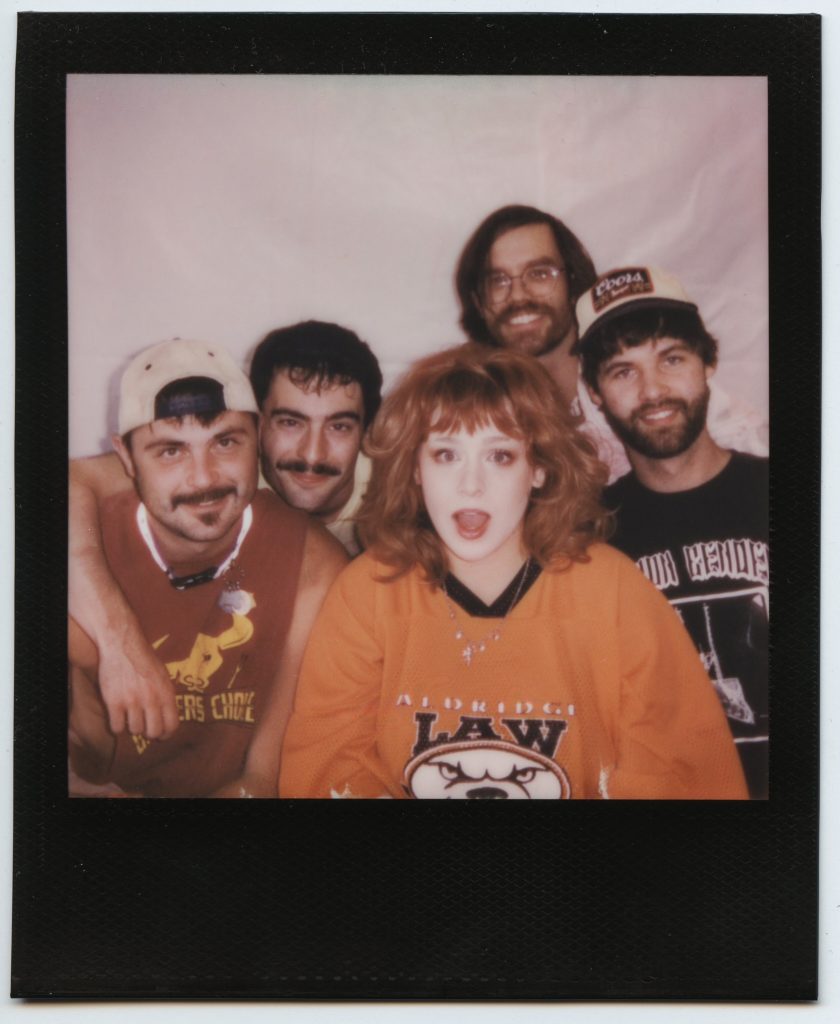 Mandias
MANDIAS demands attention. This alternative rock/ post punk group is an expression and exploration on what it means to have an ego. Why do we view ourselves as "better"? How do we interact with ourselves? What does it really mean to be narcissistic? "Look at my works ye mighty and despair"