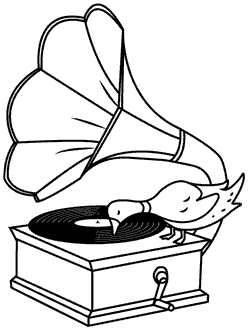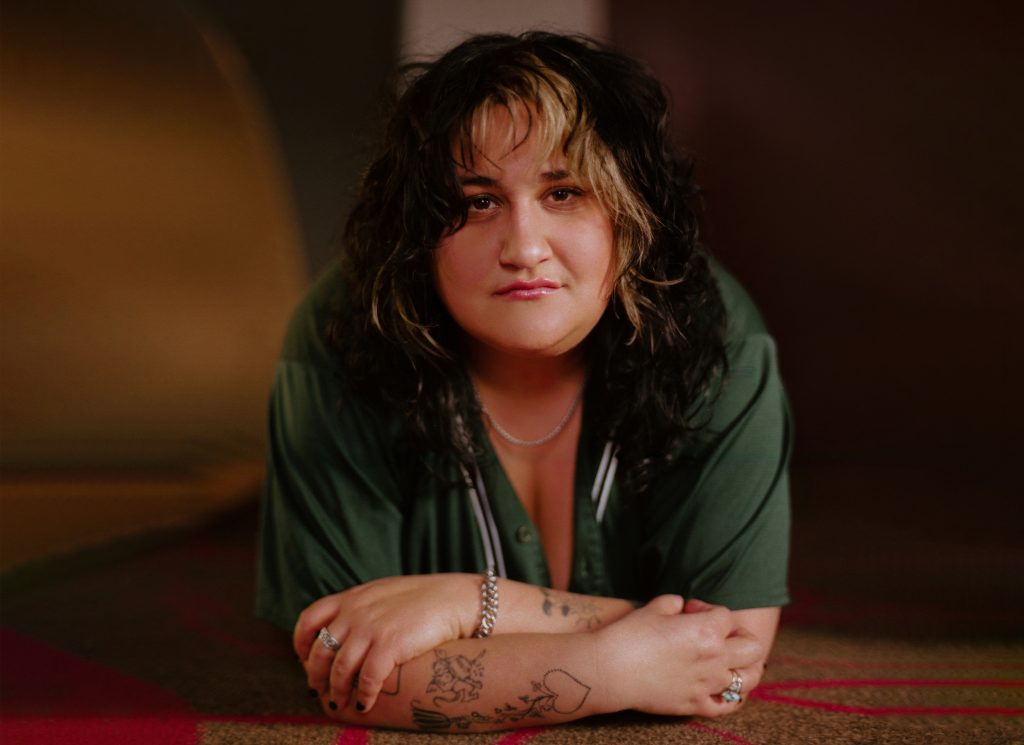 Palehound's new album Eye On The Bat charts something that divides you into "before" and "after" – the danger of
fantasy, of heartbreak, and the pain of growth. How we can surprise ourselves. It's a documentation of illusions
shattering, both of yourself and of others. A tangle of raw nerves coming undone amongst swelling, propulsive
instrumentation, it's the biggest – and best – Palehound has sounded on record.
From Palehound's critically-acclaimed debut album Dry Food (2015) to A Place I'll Always Go (2017), and Black
Friday (2019) and then, Doomin' Sun (2021) by Bachelor (a collaborative project with Jay Som's Melina Duterte),
El Kempner's songwriting has always been generous and personal, dispatches from a deep inner world. On Eye On
The Bat, though, we meet Kempner anew: a guttural howl; white-hot and blistering catharsis; a feverish and visceral
and painful present.
As Palehound, Kempner's guitar playing – their sinewy and off-kilter riffs – has always been front and center across
the project's discography, like smoke unfurling around anxiety-laden lyrics. It's cerebral, trying to make sense of grief
in a grocery store or an argument in a parking lot, plumbing the anxious depths of the interiors. Introspection,
retrospection, whatever you'd like to call it, has threaded together Kempner's songwriting, the bruising aftermath of
trying times, since the very beginning. Here, though, we're trapped in the immediate: witnessing the tiny details that
build or break a relationship, and the flood that comes after.
"It's about me, but it's also about me in relation to others," Kempner says of the album. "After hiding for so long –
staying inside and hiding your life and hiding yourself from the world – I was ready. I think I flipped."
Recorded in brief stints across 2022 at Flying Cloud Recordings in the Catskills, the space between each session
gave Kempner more time to breathe, to revisit the songs after time away. Kempner co-produced Eye On The Bat
alongside Sam Owens (Big Thief, Cass McCombs), who was also crucial to the process — lending assistance yet
allowing Kempner to take the reins on producing, to call the shots on the session and step into their own as a
producer. Kempner also credits multi-instrumentalist Larz Brogan, who they refers to as "their platonic life partner"
and longtime member of Palehound since the Boston DIY days, as a vital part of making the album come together the
way it did. They make Kempner feel seen – allow them to be vulnerable, to experiment, to push themself in the studio.
After playing together for so many years, Brogan and Kempner both wanted to push themselves to make a record
that sounded less produced, one that simply captured the raw energy of Palehound live. Stand-out track "U Want It U
Got It" was almost entirely self-produced by Kempner at home, save for Brogan's drumming, the first time anything of
the sort has made it onto a Palehound record.
"In the past, I've taken myself really seriously in the studio, and I've ended up with really serious-sounding records,"
Kempner explains. "This one – it's a break up record. I wanted it to sound raw. I wanted it to sound like I was feeling –
very much in control, and out of control, at the same time."
Opening track "Good Sex" charts trying to make a relationship work, the desperation to recapture something, in
searing detail; before dissolving into "Independence Day," its chaotic counterpart, where you realize you can't and
find yourself breaking someone's heart in the glow of fireworks. "The Clutch" flies by red flags, plunging forward even
though it shouldn't, even though it's speeding toward heartbreak; while "My Evil" is about being the heartbreaker,
hurting someone you never could have imagined hurting. Accepting that, even if unintentional, we all act as villains in
someone else's story.
The poetry is still present – full of aching and shrine-building to minutiae – but it feels genuinely diaristic and
authentic. In the past, Kempner admits to hiding behind poetic notions, burying the hurt in metaphors. But here, El's
at their most open and vulnerable. "I was trying too hard to figure out who I am – what kind of musician I want to be,
what kind of person I want to be," Kempner explains. "And now I'm just embracing my instinct, and bucking what
other people's expectations are. These songs are truly just for me. I was really intentional in processing every detail.
For my own sake, frankly."
Eye On The Bat is not a hopeful record in content, but it's immediately recognizable as the sort of totem you come
out clutching on the other side of profound change. It feels like a promise to yourself – if you made it through that,
you'll handle whatever comes next.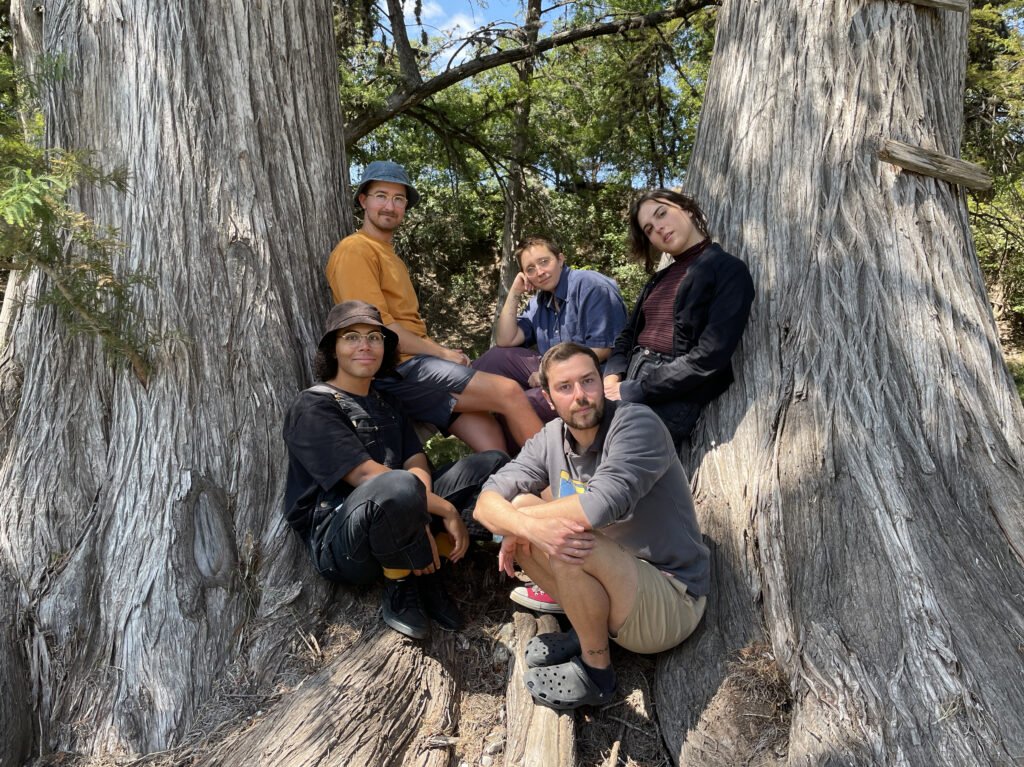 alexalone
The sounds of alexalone will usher you into warm, fuzzy, lonely spaces, then shock you alive with pulsing energy. But, alexalone's first full length album, ALEXALONEWORLD, isn't merely about the sound, it is an exercise in world building, and a portrait of the artist cradling and nurturing their emotions as they create, navigating labyrinths of pain as they search for exits, and hoping for a haven where they can survey the damage and regroup.
Appropriately, alexalone's first full-length record emerges at the moment we've learned to live with the pain of isolation while also clinging to shimmers of hope for an ending. ALEXALONEWORLD's gravitational center is Alex Peterson's (they/them) musical vision and authorial voice, the wayfarer through a forest of moods. And, having begot a world of solitude, Peterson then tore open a wormhole through which other artists, musicians, and friends might enter, plumbing the dark corridors and secret rooms.
Peterson's lyrics are wonderfully moody: "Electric Sickness" leads in with caustic rumblings, the following three songs hold a lingering dream-state always verging on nightmare, before the possibility of escape and emergence comes with the final songs. Collaborations with the album's cover art designer minipete create a visual dimension to the world, and video game designers Karolina and Simon create a multi-media portal on the upcoming music video for "Ruins." Central to the musical, visual and media world is "Black Rainbow," track 6 on the record. The song alternates between solo voice chanting gravely over drums and explosive instrumental catharsis; subdued pain reaching for comfort and release in noise.
Though Peterson is no stranger to performing with other musicians, as a live member of both Hovvdy and Lomelda, when alexalone were highlighted in NPR's 'The Austin 100' in 2018, Peterson was still recording music largely as a one-person band, layering and looping to generate the "big, billowing, shoe-gaze epics" praised by NPR's Stephen Thompson. Having performed with frequent collaborator and percussionist Sam Jordan, Peterson now invited Jordan, and multi-instrumental pals Mari Rubio and Andrew Hulett into the recording stage as alexalone transformed from one person to a four piece band. This quarantine preserved the isolated introspection Peterson so effectively channeled in their music while also allowing time to produce rich and immersive sound. Peterson and Jordan began laying down drums in November of 2019 in a makeshift studio below Jordan's central Austin apartment, but the recording largely took place much as all our lives did in 2020, across the digital matrix. The band had only one sublime performance together before Covid pushed Austin's bustling live music scene into this prolonged shadow. The late February show in downtown Austin's Cheer Up Charlies gave the newly formed band a taste for the esoterically powerful sounds they could make together.
While the recording for this album began in late 2019, the inchoate rumblings deep below the surface of this record began much earlier within Peterson whose passion for music began stirring around the same time as their awareness of the ways difference can lead to pain. Among other things, this album is an adventure tale whose protagonist from an insular world of crushing emotion, travels through internal and external territories, and ultimately finds themselves among ruins which offer recovery and reconciliation.
The album is fueled by Peterson's passion for making music and their personal experiences facing systems of oppression. Peterson found inspiration in the worlds built by Tolkein, Murakami, absurdist graphic novelist Inio Asano, and Zelda video game designers, among other artists who manage to envision worlds where agony merges with playfulness as characters traverse metaphysical spaces. Musically, they draw inspiration from Low, Boris and Yo La Tengo, among other bands who tease out paradox through sound, and who continually seek new creative terrain. alexalone isn't afraid of descending into dark painful places, but they are also always up for play. Like the best existentialists, they imagine Sisyphus happy.