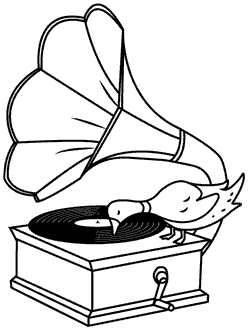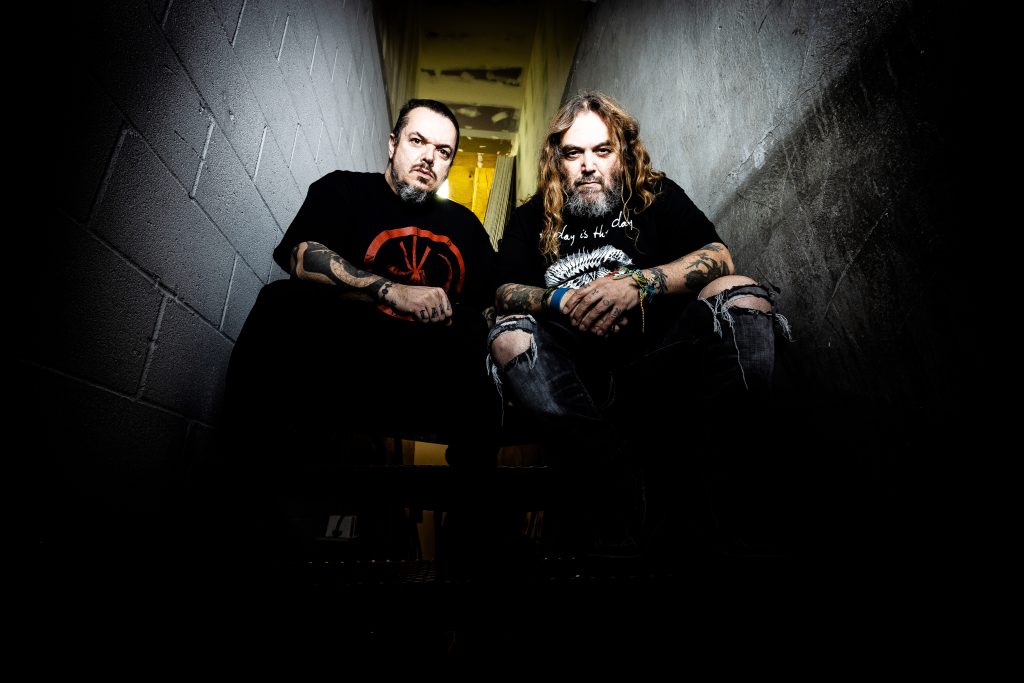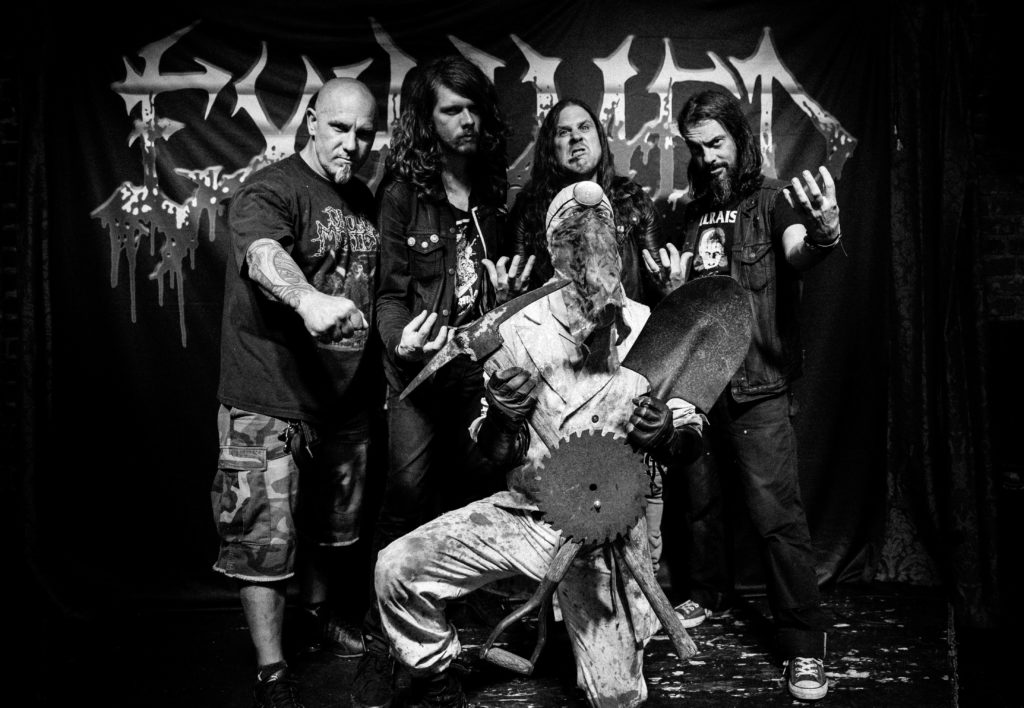 Exhumed
San Jose's EXHUMED have blazed a path for modern-sensible old-school death metal since
the band's 1991 formation, when the band's founder and sole remaining member Matt Harvey
was a tender 15 years old. EXHUMED spent much of the ensuing decade hacking their way
through numerous line-ups, demos, split CDs, and EPs. In 1998, the band finally released their
debut album, the genre-(re)defining and critic-repulsing Gore Metal. The album crystallized the
sound forged with their l994 demo (old-school death metal meets full-on grindcore with the spirit
of thrash) and first split CD (Horrific Expulsion of Gore and 1996's In the Name of Gore
respectively); the band envisioned the three releases as a trilogy of sorts.
Touring in support of Gore Metal brought the enlistment of then-bassist (now lead guitarist) Bud
Burke to complete the line-up for the band's long-awaited first US tour and festival appearances
after Ross Sewage's departure in 1999. EXHUMED upped the ante with their go-for-the-throat
sophomore record Slaughtercult in 2001. The album blatantly blended the band's brutal
cult-thrash influences into its sonic meat-grinder. The band evolved further with their third
album, 2003's Anatomy is Destiny, with more sophisticated arrangements, production and
instrumentation. After touring heavily in support of Anatomy… and the band's massive 2CD
compilation Platters of Splatter, EXHUMED realigned their personnel, and released an album of
cover versions called Garbage Daze Re-Regurgitated in 2005. Shortly thereafter, the band was
put on indefinite hiatus.
After six years away from the scene and numerous other projects, Harvey, former members
guitarist Wes Caley, and bassist / vocalist Leon del Muerte teamed up with drummer Danny
Walker (Intronaut, Murder Construct, Phobia) for their acclaimed comeback album, All Guts, No
Glory in 2011. The album earned them spots on numerous top 20 lists for 2011, including
Decibel Magazine (#13) and Pitchfork's Metal column Show No Mercy (#11). With the positive
reception of the record, EXHUMED undertook a grueling road schedule which led to the band
finding a new full-time lineup. Mike Hamilton (Deeds of Flesh, ex-Vile) took over the drum throne
and Caley was eventually replaced by returning alumnus Bud Burke, this time on lead guitar.
Over the course of the years, EXHUMED have developed an impressive tour resume that
includes visits to America, Canada, Europe, Japan, Australia, and Iceland. The band have also
performed at high-profile festivals including Maryland Deathfest, Wacken Open Air, Obscene
Extreme and Scion Rock Fest, in addition to tour packages like Summer Slaughter. EXHUMED
have shared the stage with artists such as Rob Halford, Napalm Death, Municipal Waste, The
Black Dahlia Murder, Suffocation, Dying Fetus, Devourment, Toxic Holocaust, Red Fang,
Cannibal Corpse, Between the Buried and Me, Goatwhore, The Faceless, Anaal Nathrakh,
Rotten Sound, Magrudergrind, Cephalic Carnage and Atheist, as well as countless others.
Somewhere in the middle of all of this touring, EXHUMED found the time to write and record a
new album, Necrocracy, released August 6, 2013 to critical acclaim from publications like
Decibel, New Noise, MetalSucks, Stereokiller, and PopMatters, all of whom included the album
on the best-of lists for 2013. EXHUMED followed up that release with a split alongside Relapse
label-mates Iron Reagan (2014), and then returned to the studio to fully re-record their 1998
classic Gore Metal. The recording, titled Gore Metal: A Necrospective, also featured the return
of bassist / vocalist Ross Sewage as well as completely new artwork and was packaged as a
deluxe 2CD set.
After four long years, EXHUMED return with their 6th full-length as they tread into ambitious
new territory with their first concept album. Lock the mausoleum doors and chain up the
cemetery gates – Death Revenge is a musical melodrama in thirteen parts based on shocking
true events Death Revenge takes place in the late 1820s in Edinburgh, Scotland and tells the
macabre tale of a series of brutal murders where the victims' cadavers were sold to anatomists,
amid a grisly underground trade of grave-robbery. Recorded with producer Jarrett Pritchard
(Goatwhore, Hate Eternal, Gruesome), Death Revenge takes the band's signature
gore-drenched, death metal mayhem to theatrical and ghastly new depths.
EXHUMED replaced longtime guitar player Bud Burke with Sebastian Phillips (Noisem) in 2018
as Burke was unable to keep up with the band's rigorous tour schedule. Phillips' aggressive
six-string attack slotted perfectly into the band's framework and added a new level of intensity to
their gore-soaked stage show.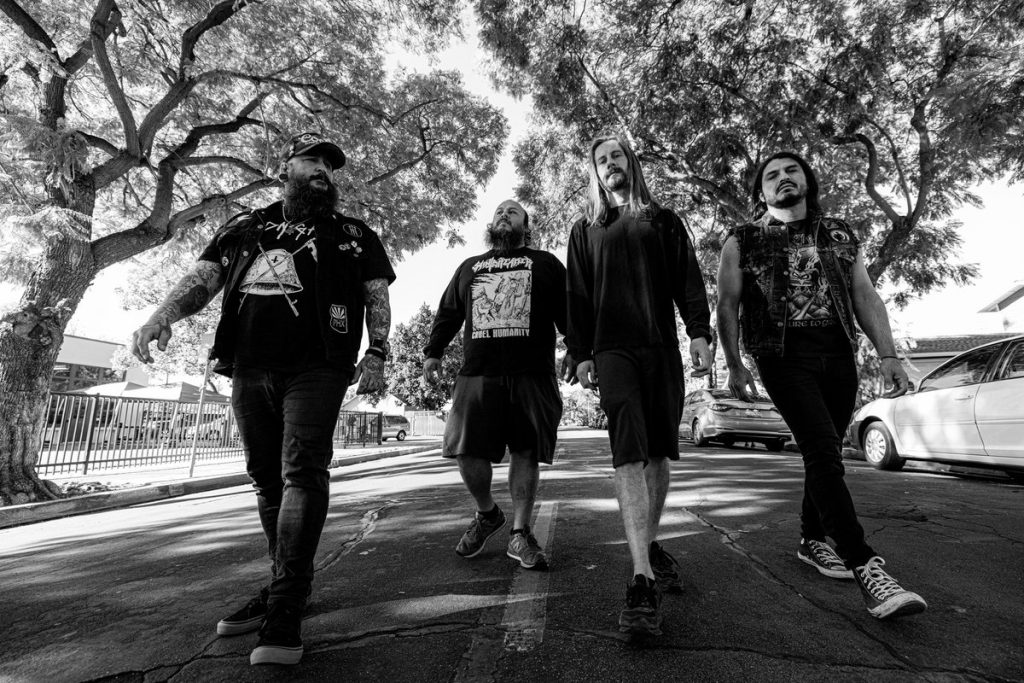 Incite
Now close to 15-years into a career where everything was earned and nothing was taken for granted, INCITE bridges the gap between multiple crowds across various metal sub-genres. As renegade disciples of trailblazing architects like Pantera, Slayer, Sepultura, and Machine Head, INCITE raise the torch for trend-killing and hipster-smashing metal. INCITE is as much a part of the fabric of the style championed by Lamb Of God as the surge of newer bands like Power Trip. INCITE perfected their signature brand of extreme sounds playing shows with DevilDriver, Crowbar, Brujeria, Soulfly, Cavalera Conspiracy, and Six Feet Under. This is a band who can open for Gorgoroth one night and Cancer Bats the next, converting true-believers out of people who grew up on Deftones or Immortal. The band's fifth album, Built to Destroy, is a visceral, urgent, voracious distillation of modern metal, with reverence for the past, produced by Steve Evetts (The Dillinger Escape Plan, Suicide Silence) and mastered by Zeuss (Rob Zombie, Hatebreed).