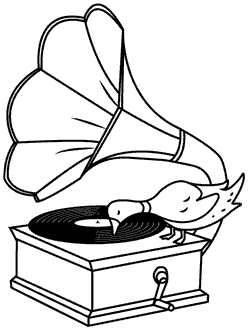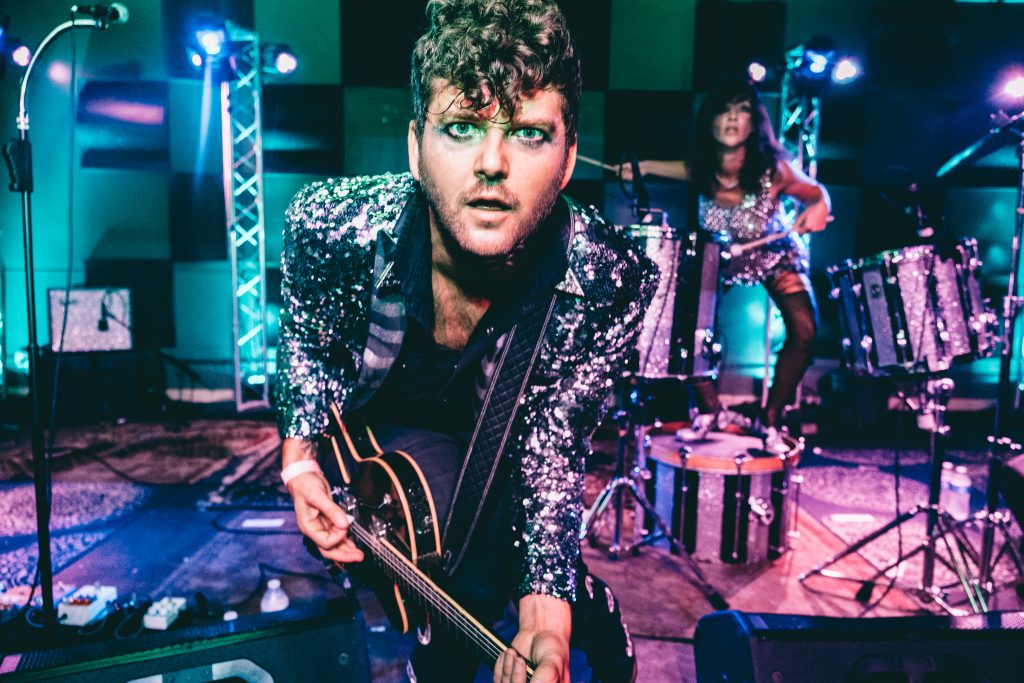 KOLARS is one of those rare acts which descends from another dimension, struts its sequin
skin, blares it's unabashed musical thrill ride and leaves audiences with their mouths on the
floor.
Rob Kolar twists and turns as he sings imaginative lyrics with a raw swagger. He spins his guitar as notes sail and scramble through the room. A presence that embodies elements of Elvis and Marc Bolan with a ragged punky edge. The magnetic, one of a kind, Lauren Brown uses her whole body as a percussion instrument, tap dancing rhythms with her feet while simultaneously playing a full stand up kit with her arms. An alluring hybrid of Mo Tucker and Gene Kelly with a dash of Iggy Pop wildness. Yes, there have been iconic duos before but none like this. On record KOLARS are slightly more subtle and nuanced. Rob produces and mixes the music and has created a genre melding soundscape influenced by his film scoring. The band has inspired evocative descriptions such as "space blues," "glam – a – billy" and "desert disco." The style combines elements of new wave, blues, pyschedelia, glam, folk, disco and punk. The production experiments are infused into the live show. In essence, the duo are a hybrid of modern technology and raw rock and roll. KOLARS have toured extensively across the US, Canada and Europe, playing many festivals and concerts in front of thousands. They have headlined national tours and have shared bills with Spoon, LP, Julian Casablancas & The Voidz, STRFKR, The Kills, Best Coast, Shonen Knife, RZA, Pussyriot, Built To Spill, The Horrors, The Growlers, Alanis Morissette, Funkadelic,
The Revivalists, Father John Misty, The Roots, Nikki Lane, Strawberry Alarm Clock and many others. They have built their momentum through hard work and tenacity, growing their following one fan at a time. They tour relentlessly and do much of the work themselves. The husband and wife duo treat the business like a growing mom and pop startup. Rock and Roll with an entrepreneurial spirit.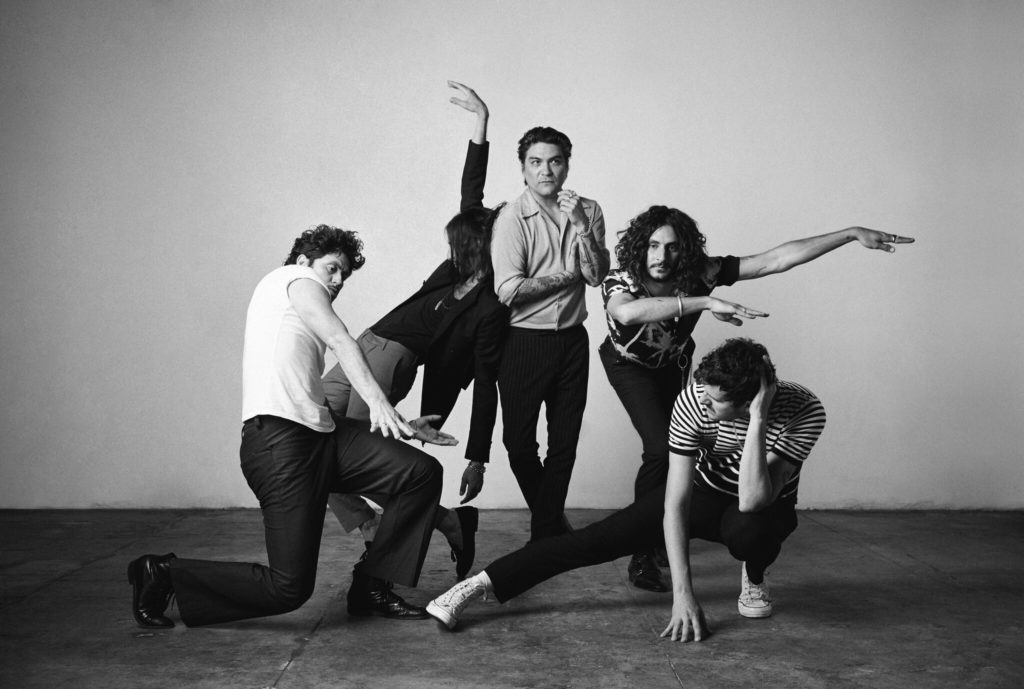 The Soft White Sixties
Alta California, the new bilingual album by The Soft White Sixties, finds the Los Angeles 5-piece expanding upon their contemporary concoction of rock 'n' roll and soul while also exploring some of their most relevant lyrical content to date (in both English and Spanish).
Produced by Elijah Thomson (Father John Misty, Delta Spirit, Richard Swift), Alta California was written and recorded at New Monkey Studio, a room formerly owned by Elliott Smith, over the course of several sessions that began on Election Night 2016.  Lead singer Octavio Genera — a first generation Mexican-American who grew up in a bilingual Spanish/English family – always wondered what it would be like to sing in Spanish, it just didn't occur to him to try it professionally, and he wasn't sure there was space for it within the band. "Speaking and singing in a language are two different things," says Genera. "There was a feeling of joy and passion when I sang these songs in Spanish that I wasn't expecting. And then hearing the songs back — it was right."
The sweaty, gyrating energy of their live show has garnered praise from Rolling Stone, Paste Magazine, and LA Weekly over the years and landed them on club and festival bills like Outside Lands, BottleRock, and SXSW, sharing the stage with fellow torchbearers of rock 'n' roll like The Hives, Eagles of Death Metal, Wolfmother, and Rival Sons.  But this time around, it all glimmers with a subtle lysergic sheen, thanks in part to Thomson's influence.  "Eli was a big proponent of making the studio feel like 2am on a Saturday night at all hours of the day," multi-instrumentalist Aaron Eisenberg explains.  "Certain songs called for certain states of mind and sobriety generally didn't factor into the equation."
The band felt it would be irresponsible to develop lyrical content that ignored the inescapable global climate developing literally while the tape was rolling.  New territory was explored, as observations on the despair of the American Dream ('Reaganomixxx'), immigration ('Brick by Brick'), gentrification ('I Still Love You, San Francisco'), paradigm shifts ('Teen Wolves'), generational and ideological gaps and what happens when one generation begins to the feel the inevitable changing of the guard crept its way onto the record.
Packed with deep, thunderous grooves from the rhythm section of Joey Bustos and Ryan Noble, squealing fuzz guitars and roaring analog synths courtesy of multi-instrumentalists Aaron Eisenberg and Rob Fidel, and the signature soulful rasp of lead vocalist Octavio Genera, Alta California is an honest snapshot of a modern rock band in their prime.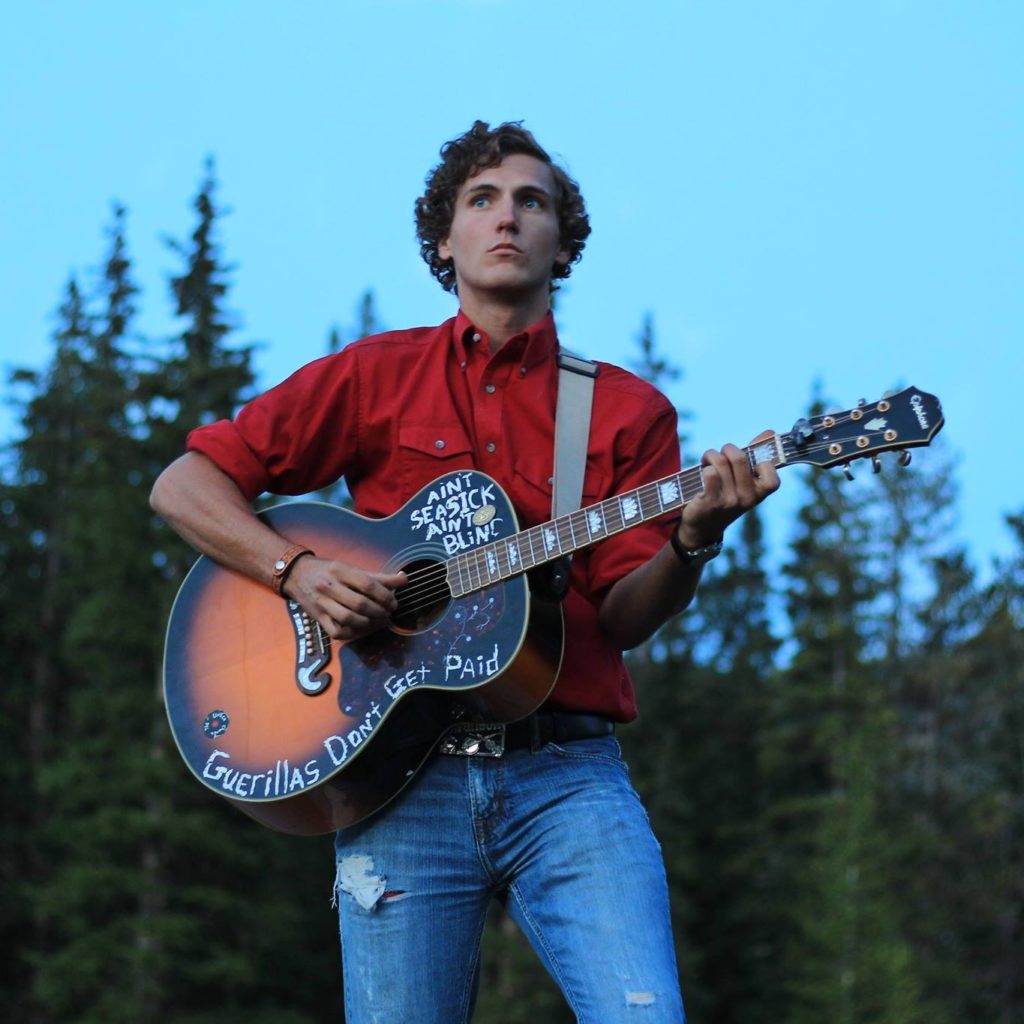 Branson Anderson