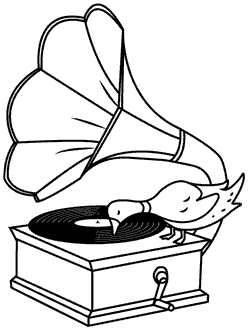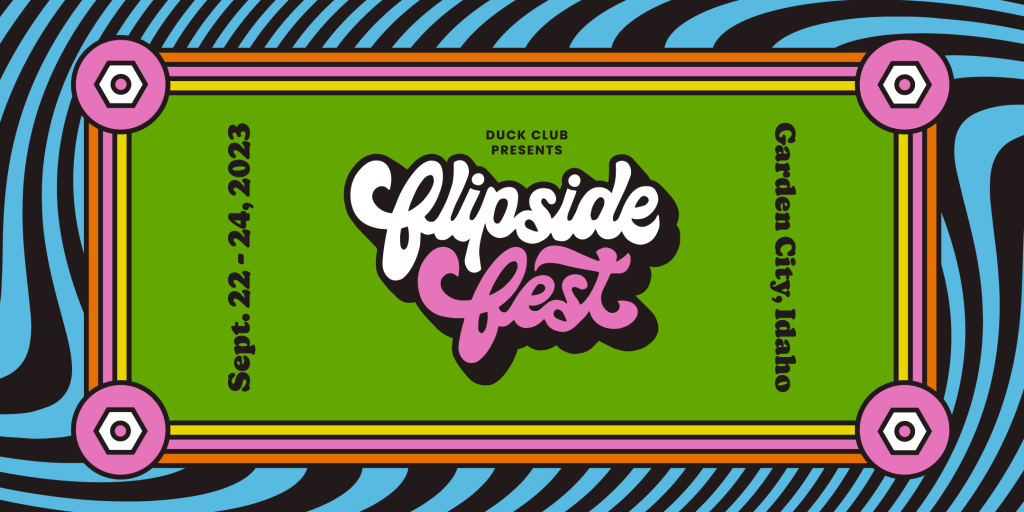 Flipside Fest
is a three-day music and mural festival in Garden City, Idaho. The fest is an all-ages, outdoor, multi-venue festival featuring 80ish local and touring bands, live murals by local artists, and immersive on-foot exploration of the Surel Mitchell Live-Work-Create District in Garden City.
Headliners for the second ever Flipside Fest in Garden City include THE WALKMEN, fronted by Hamilton Leithauser — the band finally reunited last month and we couldn't be more stoked for them to perform at the second year of the festival (fun fact they also played ten years ago at Treefort's second festival year)! Joining them on the lineup are the illustrious L.A.-based rockers THE REGRETTES, who performed on Good Morning America, Jimmy Kimmel Live!, and Conan, plus electronic artist-producer and Vaporwave legend GEORGE CLANTON, and Australian psych-surf-farm rockers BABE RAINBOW from all the way down under (Byron Bay, Australia). Plus, Japanese indie quartet CHAI and dance pop siblings FROST CHILDREN (NY) are popping in with their infectiously high-energy beats! New additions to the lineup include the immortal electronic trio MAGIC SWORD (Seas of Oblivion), and badass psych rock rager outfit SPOON BENDERS (Portland, OR) along with the dreamy, sway worthy, and Boise faves THE SHIVAS (Portland, OR) and prepare to dance the night away with a DE LUX (DJ Set). Additional acts to perform at Flipside Fest 2023 include ROAR (Phoenix, AZ), EGGY (New Haven, CT), IGUANA DEATH CULT (Rotterdam, Netherlands), 26FIX (SLC), PIXIE AND THE PARTYGRASS BOYS (Utah), HARMLESS (Los Angeles, CA), DEATH'S DYNAMIC SHROUD (Los Angeles, CA), HEALING POTPOURRI (San Francisco, CA), CABLE TIES (Melbourne, Australia), THE RED PEARS (El Monte, CA), SEGO (Los Angeles, CA), ANGEL ABAYA (Los Angeles via Boise, ID), LOBO LARA (Boise, ID), MOON'S OWL MAGES (Boise, ID), MEXICAN SLUM RATS (Granada Hills, CA). Plus many more to be released! Venues will be pretty much the same as last year, with the central hub of the festival + Main Stage at the parking lot next to Visual Arts Collective, plus stages at Barbarian Brewing, nearby wine tasting rooms and of course, outside of Push & Pour + more tba!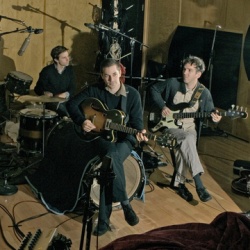 The Walkmen
The Walkmen are an influential NYC art rock band who released 6 full length albums before disbanding. Now reunited, 2023 brings their first shows together in a decade. The band is made up of five Washington DC natives: Hamilton Leithauser, Paul Maroon, Matt Barrick, Walter Martin and Peter Bauer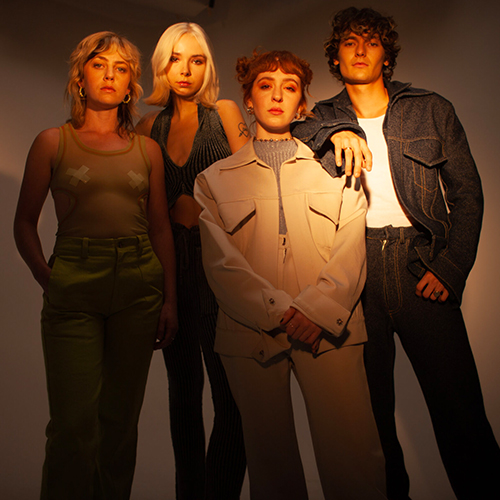 The Regrettes
"There's so much pressure to constantly better yourself," Lydia Night, lead singer and songwriter of The Regrettes, says. "We're obsessed with social media, which makes it easy to obsess over self-growth and unhealthy amounts of productivity. That phrase, 'further joy,' summarized what it meant to be on the hamster wheel of constantly chasing happiness, but in turn, that's what makes you unhappy," she adds, acknowledging the shared inner turmoil she, guitarist Genessa Gariano, bassist Brooke Dickson, and drummer Drew Thomsen were dealing with at the start of last year. "I was stuck in a loop of wanting to be better, wanting to be good, and therefore I couldn't be here. I couldn't be present." The desire to break free of that cycle is what the band's third album, Further Joy, is all about.
As the pandemic set in and Los Angeles shut down, The Regrettes were having a full-blown identity crisis. Lydia had been touring since she was 12-years-old, meeting guitarist Genessa when they were just teens in music school. As a band, they'd been on stage long before their 2017 debut, Feel Your Feelings Fool!. And, by the time they released their critically acclaimed LP How Do You Love? in 2019, they'd formed a cohesive lineup with Brooke and Drew, setting themselves on a steady upward trajectory. They'd spent the past two years headlining sold-out shows across North America and Europe, performing at mainstay festivals like Coachella and Reading and Leeds and playing their hit singles on Good Morning America, Conan, and Jimmy Kimmel Live!. As NME said of their sophomore album, The Regrettes were "truly unstoppable" until they weren't.
"So much of our identity is tied to music and performing," Brooke says, adding that without the distraction of playing live, they were forced to answer the question: "Who am I when I'm not performing?" That shared inner inquiry can be heard in the band's most actualized, collaborative, and vulnerable album to date, a self-aware soundtrack for those interested in what Lydia refers to as "dancing the pain away."
In January of 2021, after more than a year apart, The Regrettes reconvened for a 10-day writing retreat in Joshua Tree. They went on hikes, stargazed, transformed their living room into a disco, and had candid conversations, some of which made their way into songs. They left the desert with a vision for the record and demos in hand, slowly bringing it to life through zoom writing sessions, and working separately with producers Jacknife Lee and Tim Pagnotta. They experimented with their sound, pushed their creative limits, and Lydia, who was once skilled in the art of "writing a song in 30 minutes and then not touching it" recalls writing then editing her deepest truths. Although the subject matter is anything but light, she still calls it the "poppiest, and danciest" album they've ever made.
You can hear that levity in "Monday," an upbeat track Lydia wrote at the peak of her anxiety disorder. "Once you accept what's going on with your mental health, sometimes it gets worse before it gets better," Lydia says. "Accepting I had anxiety and depression was extremely scary because then it became real. This song comes from the validation of those feelings." The song's music video introduces the character "Joy" – a pink representation of the unattainable yet ideal self the album pushes against.
In "Out of Time" Lydia sings "all of these anxieties come over me/ just let me breathe" at a panicked pace, sonically capturing the feeling of running out of time. In "Barely On My Mind" Lydia replays scenes from "a really gnarly, abusive relationship," she processed during the lockdown. On the song, Genessa turns up distortion, Brooke experiments with palm muting, creating a tight poppy sound, and Drew lives his '80s R&B pop dream thanks to the percussion overlaying his drum track. "We've all had terrible experiences with abusive men," Brooke says of the track. "There's no sweet way to put it, that one's an angsty banger." In, "Subtleties (Never Giving Up On You)" Lydia discusses her path to self-acceptance. "'Subtleties' in particular feels super pretty, and beautiful, but is one of the darkest songs of the album lyrically," Lydia says. "I've struggled with eating disorders for a large portion of my life starting when I was 15, which eventually turned into body dysmorphia. Me singing 'Never giving up on you' is me singing to myself." In "Homesick" Lydia taps into feelings of longing. "I'd been going through this whole pandemic process with my boyfriend and I hate feeling codependent but I felt so codependent when he left. I had gotten so used to, without even realizing it, having that person around and relying on that person." Though it's a love song, "Homesick" still captures the dangers of yearning too much. "There are moments and lyrics that still give you a glimpse into that dark place I was in, like the one-line 'fetishizing the thought of you lying' I love that lyric because I feel like that's my anxiety to a T."
For Brooke writing "You're So Fucking Pretty" together was transformative. "That was a new experience for us, both sonically and emotionally," she says. "We hadn't explored that space together. That was a big moment for us and it's a really special moment on the album. Lydia recalls the relief of being open with her bandmates without feeling embarrassed or scared. "It's the first time I've ever written directly about a girl I had a crush on and it took me a while for me to even allow my brain to accept the fact that I'm bisexual," Lydia shares. "Writing this was important for me because it just validated my own sexuality." For Genessa, "You're So Fucking Pretty" was an opportunity to write a song they wish they had when they were younger. "As a queer person growing up it definitely felt like there weren't many songs I could relate to, and I feel like this song would have been something I would have held really close to my heart as a kid. I hope that happens with other people. I don't think it necessarily has to be this queer anthem but I think someone else could listen to it and feel the same way, or a girl could feel that way about a boy she likes. Boys can be pretty too."
The band wrote, "La Di Da" to capture what Lydia calls "the action a kid would have, of putting your hands over your ears and saying 'la la la' to block out everything." The call to action was inspired by their impromptu desert dance party. "I have a playlist of 2000s songs and when we were in Joshua Tree, we had a dance party with these colored lights with gels," Genessa says. "It may have been the Black Eyed Peas, some song telling us to put our hands up. You don't have to think, you have no choice but to dance because it's telling you what to do. That's such a freeing feeling." Drew remembers the song, being a "total departure" from the band's typical path in the studio. "I was playing an organelle, this really cool synth with wooden buttons," he shares. "That first thing that comes in on the song, that little synth part I was playing, Lydia heard that and loved it, so I kept playing and she started singing. It was one of those songs that came out very quickly." Writing those songs together gave the band a newfound sense of ownership. "There's a passion behind the actual music itself now that hasn't been at that level before," Drew shares, adding, "It's the first album that feels like our album."
The song "Nowhere" draws inspiration from an Alan Watts quote, "You can't live it all unless you can live fully now." The line left a lasting impression on Lydia. "What Further Joy means, that chase for happiness, that quote sums it up," she says. "You're never going to experience real life if you're chasing something." It's the lesson that allowed The Regrettes to pause, go inward separately, and still land in the same place together, becoming a tighter unit than they've ever been. "So fucking much has changed on a personal level which translates into my lyricism and the way we are with each other, how close we are with each other," Lydia recognizes. "We've bonded so much." It's also the lesson Lydia hopes listeners walk away with. "We all deserve happiness and to be present, and we'll never get there if we feel so much shame and guilt for not being there already," she adds. "Don't get caught in the hamster wheel of chasing joy."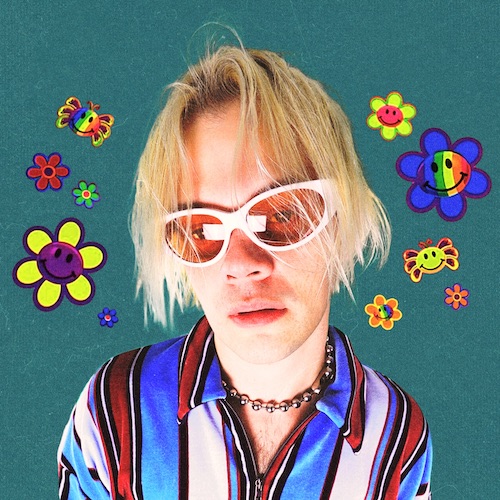 George Clanton
George Clanton doesn't just produce gleaming electronic pop, he produces nostalgia too. The Los Angeles artist's process involves tweaking synthesizer presets, but beyond searching for the right melodies and textures, he's hoping to come upon a sound that strikes a spiritual chord. "I'm looking for something that triggers a memory or an emotion," he says. His lyrics are direct transmissions from his soul: raw, often off-the-cuff, evocative. When you pair those words with the gauzy textures Clanton's become known for, his music feels like a dreamy filter you can put over your own memories. Every moment feels a little more colorful, a little more comforting.
You can hear the impact of this approach in his upcoming third album—take fuzz-pop anthem "Fucking Up My Life." The track is both raucous and soothing, and as Clanton's distorted croons echo across swelling synths and crushing breakbeats, he offers a mantra: "It feels alright."
It's a fitting return for an artist who's spent the last decade cutting through the noise. In addition to making music, he runs the 100% Electronica record label with his fellow pop mutator and wife Negative Gemini. He also spearheads events, including weekly livestreams on Twitch. Being extremely online has allowed Clanton's fans access to the depths of his personality, to connect with his work more deeply. "I think of myself as the ultimate DIY person," he says. "Working the George Clanton way has made for a really unique career that hasn't yet been fully recognized."
Growing up, Clanton knew he wanted to be an entertainer, but he didn't know how. His hometown of Ridgeway, Virginia, had a NASCAR track but no concert venues or record stores. So MTV was his primary education: videos by artists like 311, The Prodigy, and the Bad Boy Records crew taught the art of showmanship. He downloaded a lot of music from Limewire. During one session, a mislabeled download of what he thought was Oasis turned out to be shoegaze band Brian Jonestown Massacre, opening him up to the vast world of underground music on the internet, which led him to help form the scene that would dream up vaporwave.
Under the monikers ESPRIT 空想 and Mirror Kisses, Clanton became a key figure of the early vaporwave scene through his meditative lo-fi productions. The genre was then known primarily for its use of samples, but his 2014 album virtua.zip was a landmark: the first of its kind to be built entirely from original compositions. He also started singing on his tracks back then, adding a human touch and another layer of emotional involvement to the developing genre. In 2015, he dropped both aliases in favor of his given name, a symbolic shedding of creative restraints.
In order to reproduce his internet success offline, Clanton hustled harder. Moving to Brooklyn in 2015, where he worked a day job and made music at night, provided that motivation. Seeking a label but unwilling to compromise, he started his own. The label and his first album under his birth name would share the same moniker: 100% Electronica. His 2018 follow-up, Slide, further revealed his gift for deeply moving pop. One of the album's most powerful tracks, "You Lost Me There," was inspired by Negative Gemini leaving for work. The mild melancholy of missing your person for a few hours started to feel like the end of the world: "I just didn't want to be alone because the house was empty," Clanton says. "I try to find the extreme in the mundane."
Clanton has also curated a tightly knit roster of artists ( Negative Gemini, Satin Sheets, Small Black, et al.) who continue to push the boundaries of vaporwave, internet music, and pop. He considers 100% Electronica his biggest achievement, pointing to the dedicated fans that see themselves in the music. "I feel like we've created a cultural identity out of thin air," he says.
Clanton expanded upon that in 2019 with 100% ElectroniCON, the first vaporwave music festival, to give the community a physical space in which to interact. When live events were paused in 2020, he stayed connected through Virtual Utopia concerts, where artists perform in panoramic virtual reality environments, and weekly VR talk show THE BIG STREAM. Even though he had no framework for programming, Clanton taught himself to code using Python and C# languages in order to make these shows. He found a way to stay busy musically too. In a full-circle moment, he got to team up with one of his childhood inspirations, working with 311 frontman Nick Hexum on their psychedelic album George Clanton & Nick Hexum (2020), which landed Clanton on the Billboard charts for the first time (Top 100 Current Album Sales).
After a year spreading out across a number of projects, Clanton is now focusing on delivering a powerful sequel to Slide. Started almost immediately after Slide's release, the new album finds him both musically and personally matured. It's an elegant merging of all his past musical selves—of stirring rock, sweeping shoegaze, and niche electronics—augmented with more complex layers and physical instruments. It's also a journey inwards as Clanton emphasizes personal reflection and self-improvement—themes he's held close his whole career. "It's definitely something that I need to get out," he says of the music. "I want people to know that George Clanton is better than ever and something amazing is coming just around the corner."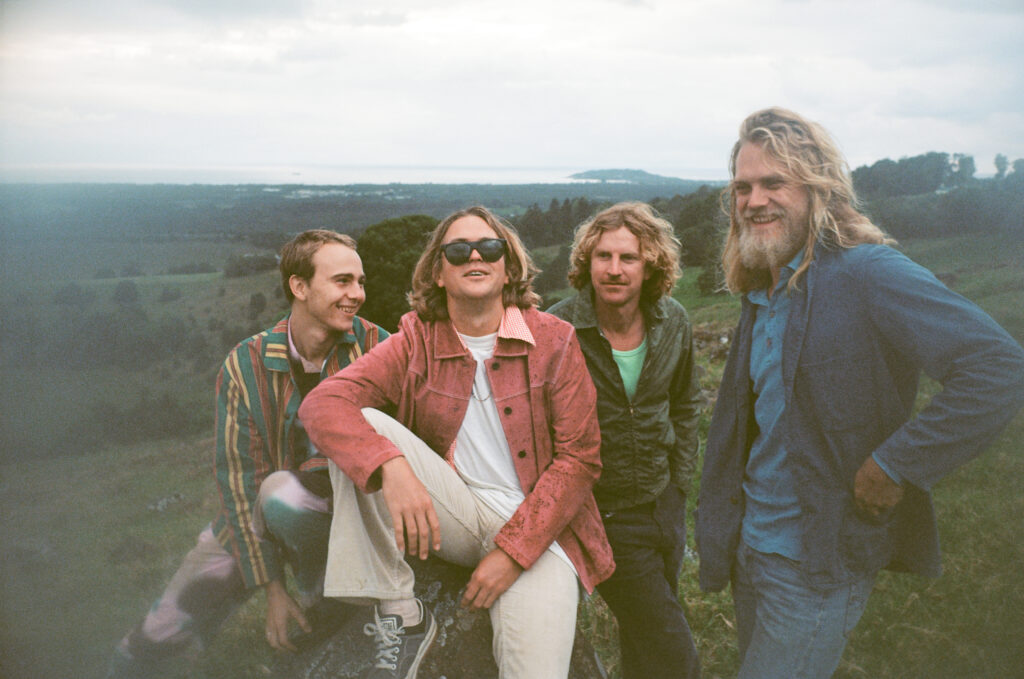 Babe Rainbow
Babe Rainbow are a stoner pop band from Australia noted for their boogie psychedelia and throwback surf cult imagery. 
Formed 2015 in Rainbow Bay by kiosk lurkers Jack Crowther aka Cool Breeze  Angus Dowling and Elliot O'Reilly. At a time the three worked for local grower John Cutts in Duranbah NSW near tropical fruit world. John and the guys were cranking out the kale way before it was cool. "We've seen plenty of vegetables go in and out of fashion" says Angus. 
Initially rooted in 60's psych and 70's French surf pop the Babe's musical style has evolved through their career exploring elements of woodland bop and disco, dub and more recently dance and international groove, yet has maintained an Aquarian quality built of Dowling's spacemen singing style and Cool Breeze's chiming effects-based guitar sounds. 
Babe wrote and recorded their first release "The Babe Rainbow EP" in a 2nd hand bookstore in Murwillumbah which was soon picked up by national broadcaster triple J and King Gizzard and the Lizard Wizard label Flightless Records. In 2017 they released their debut album produced by Stu Mackenzie and smacked out support tours with King Gizzard, Allah Las, Tomorrows Tulips, and French synth wave band La Femme internationally. 
The debut Babe Rainbow album was signed to 30th Century / Columbia. The "Double Rainbow" (2018) followed and then "Today" (2019). Wollongong surfer Miles Myjavec joined on drums around this time. Babe Rainbow now own all their masters and future releases including album four 'Changing Colours' which was the first on the bands own label EUREKA! Music through AWAL. 
Babe Rainbow is powered by Hobie swallowtails