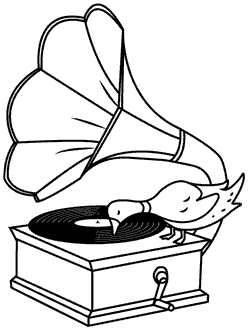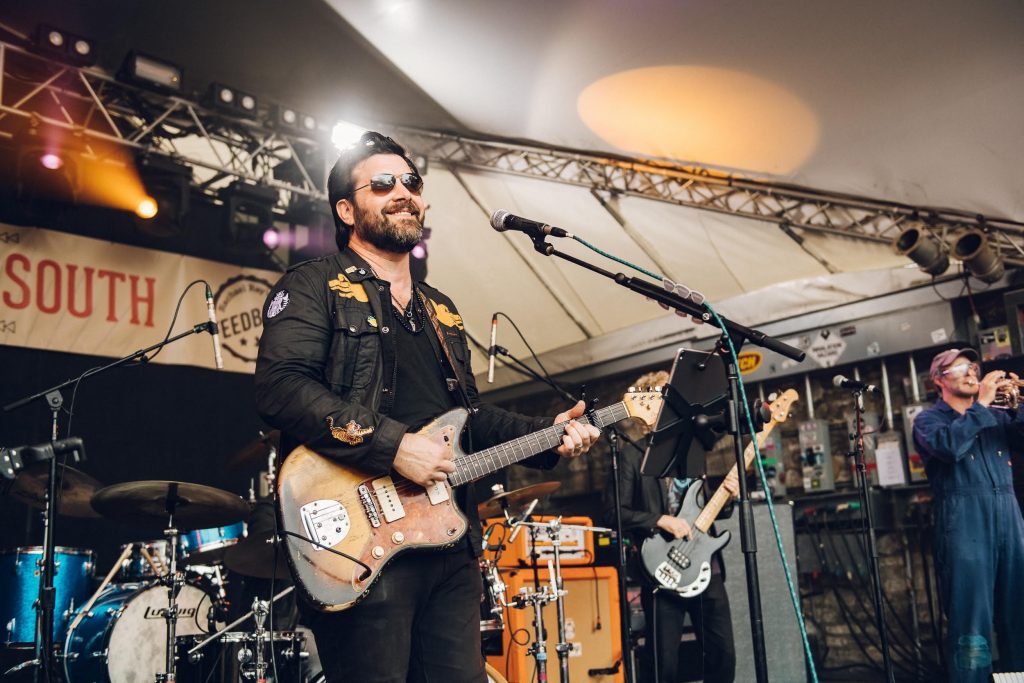 One of Austin's most celebrated musicians, Bob Schneider, is set to release his new album, ​Blood and Bones​ – his 7th studio album since his 2001 solo debut ​Lonelyland​ – on June 8th via his Shockorama Records imprint. ​Blood and Bones​ captures Schneider at a unique, and distinct, place. "Most of the songs are about this phase of my life," he admits. "I'm re-married, I have a 2-year-old baby daughter who was born over two months premature because my wife had life threatening preeclampsia. So dealing with that traumatic event while getting older and looking at death in a realistic, matter of fact way, experiencing the most joy I've ever experienced along with feelings of utter despondency in a way that would have been impossible to experience earlier in my life, all comes out in the songs. My relationship with my wife is the longest committed relationship I've ever been in, so there was a lot of unchartered territory there to write about."
The songs on ​Blood and Bones​ reflect this. Recorded quickly with producer Dwight Baker, who has worked with Schneider on 6 of his previous releases, the album highlights the chemistry that Schneider and his backing band of Austin's very best musicians have developed while relentlessly playing live, most notably at the monthly residency Schneider has held at Austin's Saxon Pub for the last 19 years. "I didn't want to overthink the songs," Schneider says. "I really respect Dwight's ability to make great calls when it comes to what works and isn't working when we are recording the songs. I felt pretty good about the quality of the songwriting, so I figured that would come through in the end if we just went in and played them the way I do live."
While the performance and production are stellar, the songwriting finds Schneider in a particularly reflective mode. Sure, there are live favorites like "Make Drugs Get Money" and "Texaco" that will get even the most reserved crowds dancing. But more often the album finds Schneider reflecting on marriage, parenthood, and mortality. "I wish I could make you see how wonderful everything is most of the time, but I'm only blood and bones," he sings on the title track, a meditation on the beauty and the limits of marriage. Later, on "Easy," he tells his daughter "it's always been a scary thing to do, to let my heart fall down into the endless blue, but it's easy with you." Through it all, there is a clear sense of mortality, of just how fleeting all of this is. "The hours and days stack up in the mirror," he sings on "Hours and Days". "We're just snowmen waiting for the summer" he sings on "Snowmen", before adding "we can't bring them back, can't bring nothing back."
One thing Schneider has excelled at in his career is bringing audiences back. Though he has received little national press or major label support, he has managed to become one of the biggest acts in Austin, if not in Texas. His fans, who often discover him from being brought to his shows by their friends, are fiercely loyal. Many have attended dozens or even hundreds of shows. Thanks to these fans, Schneider has won more Austin Music Awards than any other musician, including Best Songwriter, Best Musician, and Best Male Vocals, rounding in at 54 total awards to date.
In retrospect, it appears inevitable that Bob Schneider would become an artist. He was born in Michigan and raised in Germany, where his father pursued a career as a professional opera singer. As a boy, Schneider studied piano and guitar, often performing at family parties and backing his father on drums at nightclubs throughout his youth in Germany and Texas. He went on to study art – his other primary passion and avocation – at the University of Texas El Paso, before moving to Austin and establishing himself as a musician. He performs relentlessly, creates new music compulsively, writes poetry, and regularly shows his visual art in galleries around Austin. With ​Blood and Bones​, Schneider further cements his reputation as one of the most versatile, inventive, and engaging songwriters working today.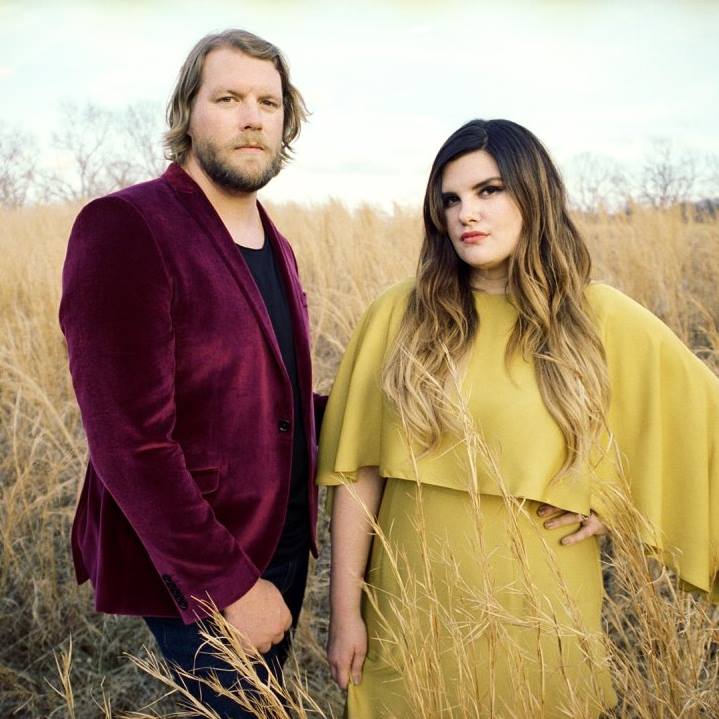 Carolina Story
Carolina Story never said no to a gig. A bar, a church, a theater, a nursing home: the duo––made up of husband and wife Ben and Emily Roberts––crisscrossed the country for a decade, building a sprawling grassroots fanbase enamored with the pair's smart, self-penned, harmony-laden Americana. Today, their new album Lay Your Head Down is a highly anticipated full-length debut on Black River. They've graced the Grand Ole Opry stage many times, won over critics, and inked a record deal.
Today, life is Ben and Emily's shared dream come true. But getting here wasn't easy.
Early on, tired and hungry, Carolina Story almost walked away. The two were living with Ben's parents in Kingston Springs, outside of Nashville. "We'd just gotten off the road, and I was thinking, 'Let's just give up,'" Emily remembers. "I thought he'd be the positive one, but Ben said, 'No, I agree.'" They went to the grocery store, defeated and lost. That's when a woman approached them to tell them she'd seen them in a coffee shop in town and loved their music.
"She was very kind, but even though we heard it as a compliment, we were thinking, 'This woman has no idea we've written our last song,'" Ben says, then laughs.
"We started to go down the next aisle," Emily chimes in. "Then, she grabbed our attention once more and said, 'Hey, I just really feel like I'm supposed to tell you guys to never give up.' Well, that sent chills up our spines." Emily pauses, reliving the moment.
"She had no idea," Ben says. "She didn't know us from Adam."
Carolina Story didn't give up. And 10 years to the day after Ben first spied Emily on campus in Memphis, the couple walked into Sound Stage Studios to record Lay Your Head Down, a mature, 12-song masterpiece that captures two people's moving, relatable journey from childhood to parenthood, independence to partnership, and despondency to hope. "I feel like there have always been signs for us that keep us going," Emily says. "And I love that we have each other."
Ben grew up in Pine Bluff, Arkansas. He picked up a guitar, started writing, and joined a band in junior high, but he had some detours to make before pursuing music full time. A gifted athlete, Ben played football for a year at a small college outside of Boston, before transferring to a school in North Carolina, then Memphis. Raised in the small farming community of Lennox, South Dakota, Emily always knew all she wanted to do was sing. She made her way to Memphis, where she began writing her own songs and remained determined to end up in Nashville.
The two had been dating for about three months when they took a trip to North Carolina. Ben had served as a white-water rafting guide there and wanted to show Emily the country he loved. There, sitting around a campfire, they wrote their first song together. "It was then we decided, let's start a band together instead of doing it separately," Emily says. They agreed.
Driving back to Memphis, the two began to make plans. Then Emily––the cautious, deliberate one of the pair––threw a curve ball.
"On the way home, we were excited about starting a band," Ben says. Then out of nowhere, Emily started talking about baby names," Ben laughed. "Almost scared me off!"
"Emily said, 'Carolina Story' would be a beautiful name for a little girl…'"
"He always leaves out the part about him telling his mother he was going to marry me before I was even interested in him!" Emily interrupts, laughing.
Ben replied, "'It'd be an even better name for a band.'" And Carolina Story was born. Today, years later, living in their East Nashville home, Ben and Emily also have two children: three-year-old Wilder and baby Lily. "We've always considered Carolina Story our first born," Emily added.
Produced by Nick Autry and recorded in Nashville at Sound Stage Studios, Lay Your Head Down is a stunning portrait of lovers and friends. Carolina Story penned every song. The title track opens the album. Lush strings and winsome harmonica cushion the song's lyrics that convey yearning and hurt. "I wrote that song sitting by the Cumberland River, not far from our house, when I was in a bad way," Ben says. "Spring time came with a vengeance this year / the river rose high / the water ain't clear," Ben sings initially on his own, introducing the telling imagery that fills every Carolina Story song. In the verses, the two plead to a higher power for a break from overwhelming pain. The chorus is the divine, comforting response. "There is a lot of life in these 12 songs. It's the story of our life together," Ben says.
Jaunty but wise, the melody and message of "Gold" follow. Over classic harmonica and thick electric guitar, the pair point out that the high pressure created by tough times actually creates something incomparably precious. With Ben and Emily's gorgeous vocals far out front, "We Were Young Once Too" bemoans the way innocence falls away even as it appreciates the wisdom age brings.
Carolina Story songs often explore feeling comfortable with truths that seem at odds with one another. Stripped down and vulnerable with the couple's voices over plaintive acoustic guitar and haunting background instrumentation, "Set in Stone" explores the secrets that lurk in every relationship, even as deep love is honestly claimed and professed. "There is a realness people can hear," Ben says. "You can hear it and think, 'It's going to be alright. Just keep going towards the light and it'll work, even when that light is just a little pinhole in the tarp."
"We don't want to be seen as just a married couple, but we are married," Emily says. "That maturity––that relationship––is in our songs. As long as we've been married, we've been Carolina Story, so there is a lot of relationship growth and artistic growth here. That's what I love about this record."
Ben's favorite song on the album, "My Feet Keep Moving Still," is also the oldest. Tender and sad, the song captures the frustration of feeling stuck, but carrying on anyway. Nostalgic "When I Was Just a Boy" tips a hat to the nuggets of truth parents impart. "Your Children's Children" immortalizes the couple's own advice to their own babies. Beautiful "Lonely without You" encapsulates passion and longing, while timeless "Rich Man" unpacks the choice between material comforts and love.
Album closer "Let Me Rock, Let Me Roll" is a standout. One of the songs closest to Emily's heart, the track reiterates commitment to one another and to the music. "It sums up all those years," Ben says. "At the end of the day, the best part is singing songs with you. That's it."
Looking back on how far they've come, Carolina Story is awestruck, emboldened, and grateful. "Just when you think the gig's up and it's all changing––that all your hopes and dreams of doing what's inside you are gone, as they say, the only one that matters is the last card you turn over," Ben says. "You just keep going."