Live music will return soon enough! As we continue to understand the scale and longevity of the COVID-19 pandemic, we are still actively working on rescheduling all shows we are able. We appreciate your patience while we sort through this large volume of work and will update you as soon as we can announce new details.
We look forward to a day when we can dance together again. Until then, stay home, safe and healthy! Rock on!
❤️ Duck Club
SUPPORT LOCAL MERCHANTS
Visit the sites below to support our local community and their staff!

The shows below are postponed and we are looking to move these shows to new dates. This may take a couple of weeks to sort out. Please bear with us during this process.
When a postponement happens your ticket will still be valid for the new date. We will refund tickets if the show is canceled or if you can no longer attend the newly scheduled date.
Thank you for being patient as we work to bring you safe and entertaining shows.


Unfortunately, the shows below have been canceled. If you are a current ticket holder to any of these events your ticket will automatically be refunded. If you purchased at Record Exchange, you'll need to contact them for a refund.
4/2: FIRST THURSDAY SHOWCASE @ The Owyhee*
4/7: SIERRA HULL @ The VAC
4/9: KAREN MEAT + SLOPPY KISSERS @ Neruolux 
4/14: U.S. GIRLS + BONJAY @ The Olympic
6/2: GBH + MDC @ The Shredder*
5/1: SNOTTY NOSE REZ KIDS @ The Olympic
5/7: FIRST THURSDAY SHOWCASE @ The Owyhee*
5/11: QUINTRON DOUBLE HEADER: Weather Warlock and Solo Mellotron Set @ Neurolux
6/4: FIRST THURSDAY SHOWCASE @ The Owyhee*
7/2: FIRST THURSDAY SHOWCASE @ The Owyhee*
7/16: SHINER @ Neurolux
7/25: OF MONTREAL @ Visual Arts Collective
9/10: AJJ @ Olympic
9/12: BEACH SLANG + THE AQUADOLLS + SOCIAL ANIMALS @ Neurolux
10/14: DIET CIG @ Neurolux
10/22: SOL + SAM LACHOW @ Neurolux
2/8/21: KEVIN KRAUTER @ Neurolux

10/22: LIVE ON THE LAWN with MAGIC SWORD, EAST FOREST & THE COLOSSAL COLLECTIVE @ Idaho Botanical Garden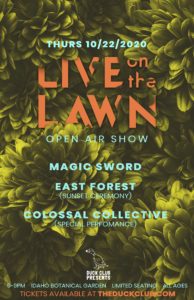 9/10: AJJ + XIU XIU + EMPEROR X @ The Olympic
10/14: DIET CIG @ Neurolux
10/18: LILLY HIATT + LOGAN LEDGER @ The Olympic  **NEW DATE**
11/11: WAVVES + SADGIRL @ Neurolux
12/4: BLACK MARBLE @ Neurolux  **NEW DATE**
1/13/21: OHMME + V.V. LIGHTBODY @ The Olympic  **NEW DATE**
1/16/21: SURFER BLOOD + WINTER @ Neurolux **NEW DATE**
2/18/21: ACID MOTHERS TEMPLE & THE MELTING PARAISO U.F.O. + MY EDUCATION @ Neurolux **NEW DATE**
9/22-9/26/2021: TREEFORT MUSIC FEST @ Downtown Boise* **NEW DATE**